2019 August School Visits at Bihar India (Day 1)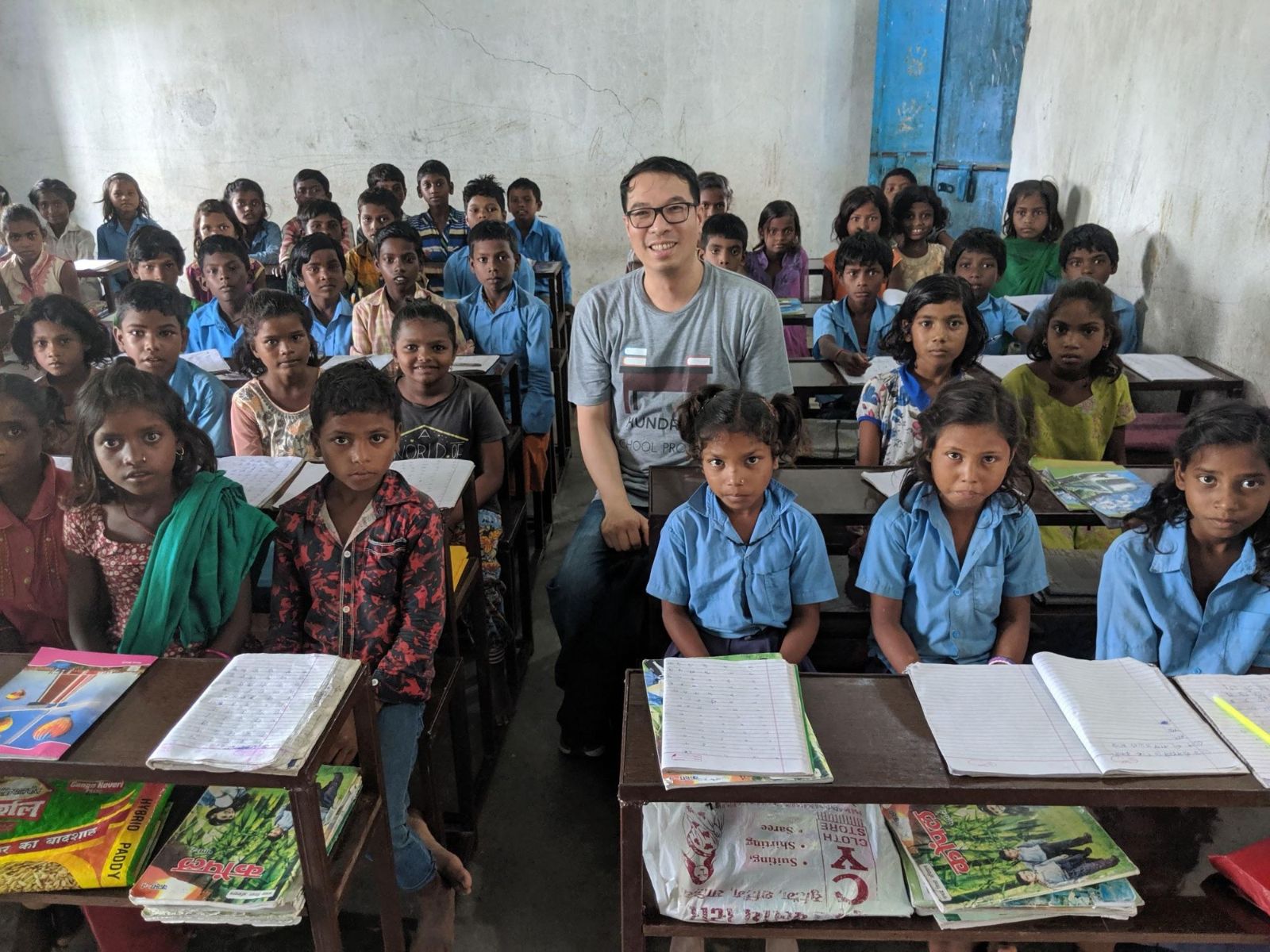 Ladies and Gentlemen, Boys and Girls (as how Indian airlines like to start their inflight announcements), we finally arrived at Bodhgaya yesterday and was met by Raj's warm hospitality. After having ample of rests and curing our travel bugs, we are about to start a series of visits to schools located in this region. They consist of schools which we have donated and yet to donate.
Day 1
On this day, we start by....having some tasty Indian breakfast! This is Bhatoora, a type of fried bread, and chickpea curry. I apologize for the incomplete dish, because I only remembered to take a photo when I was already halfway working through its beautiful flavours.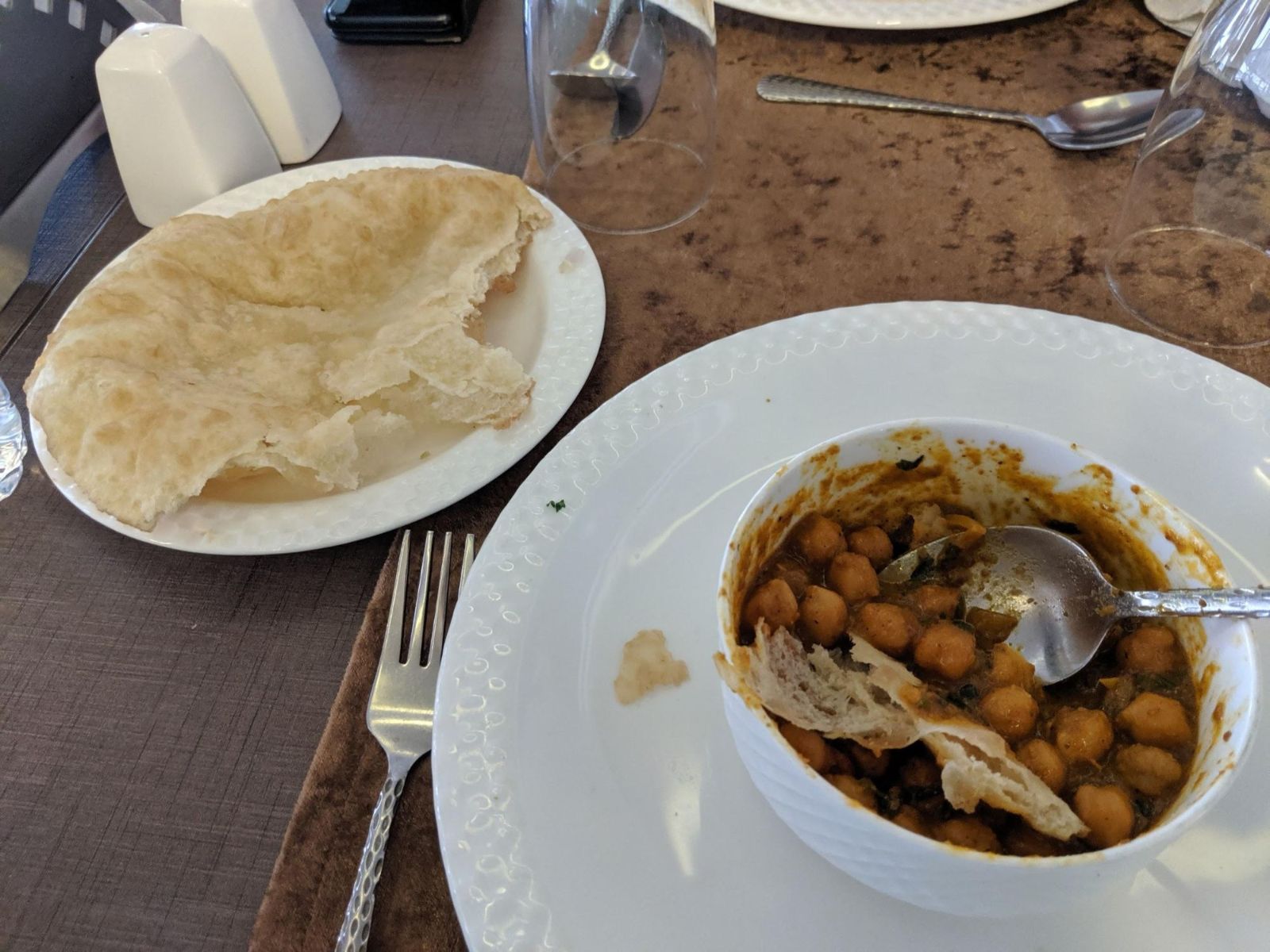 Ok, onto serious business. Raj picked us up and away we go to our first stop – the Carpenters. On the way we witnessed picturesque views of the nearby villages' daily activities.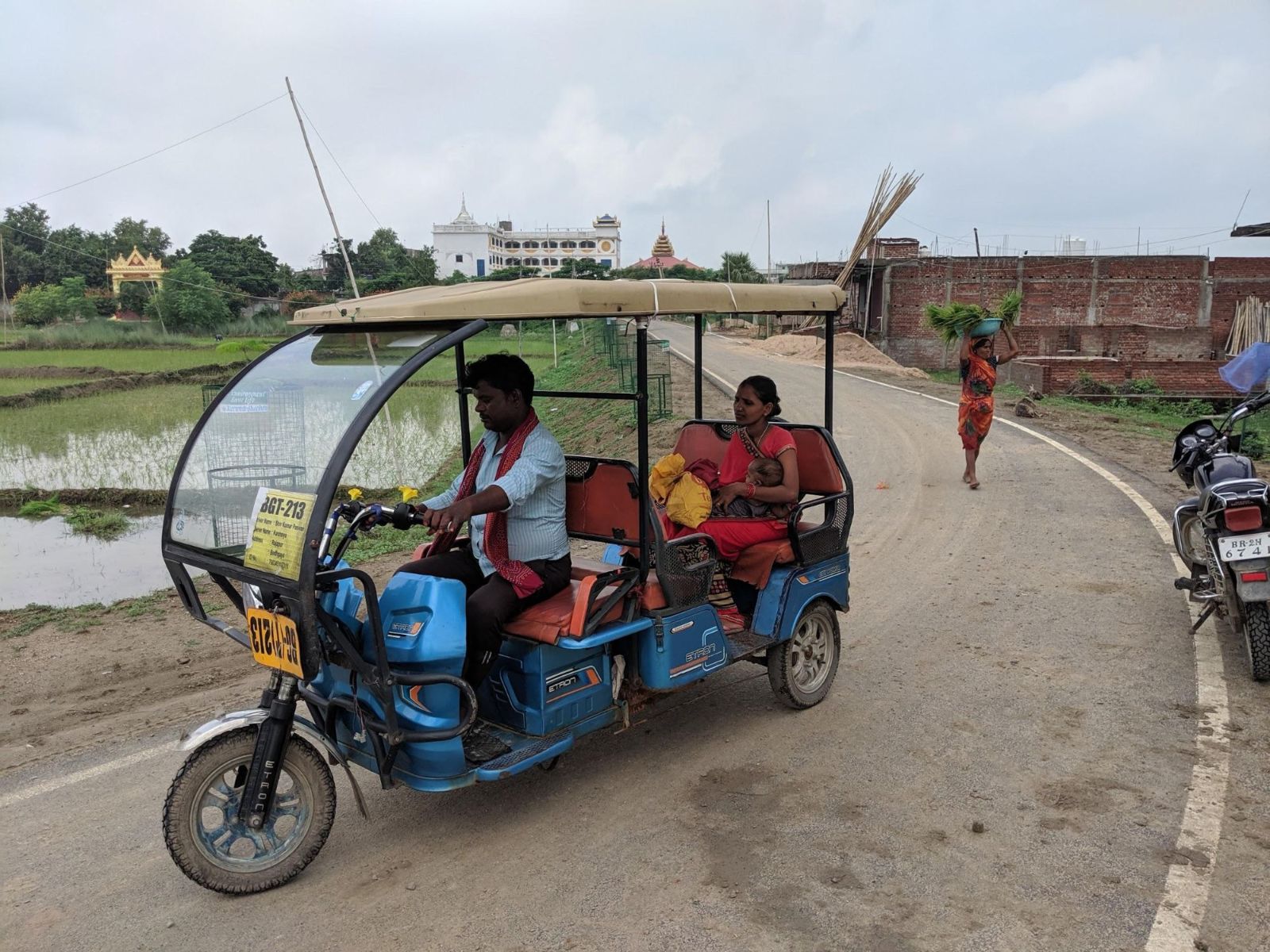 A popular motorised rickshaw, suitable for tight corners, short distances, perfect mode of transportation in the villages. They may be small, but oh my their horns are L-O-U-D.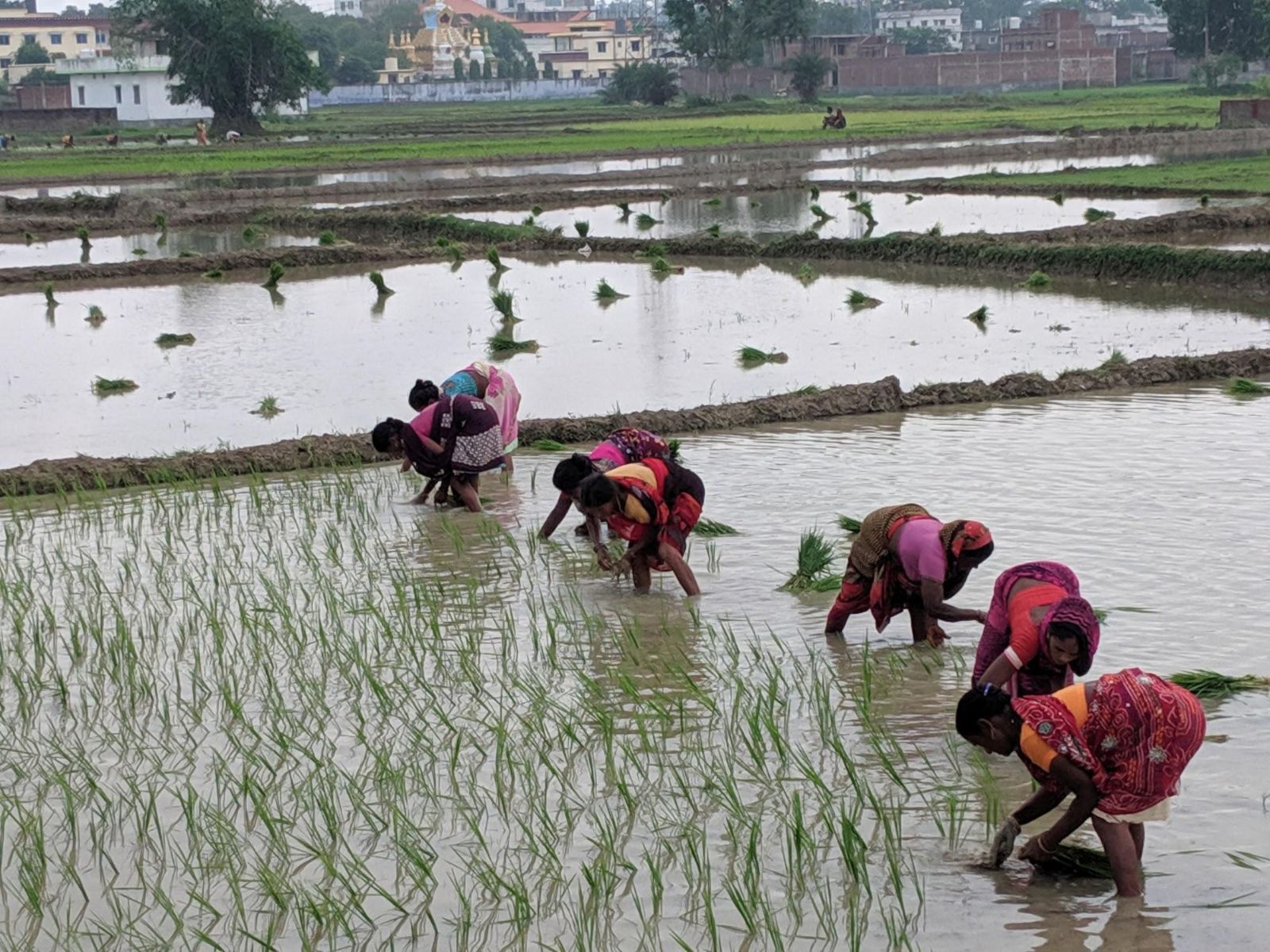 It's rice padi planting season, diligent women busy planting away.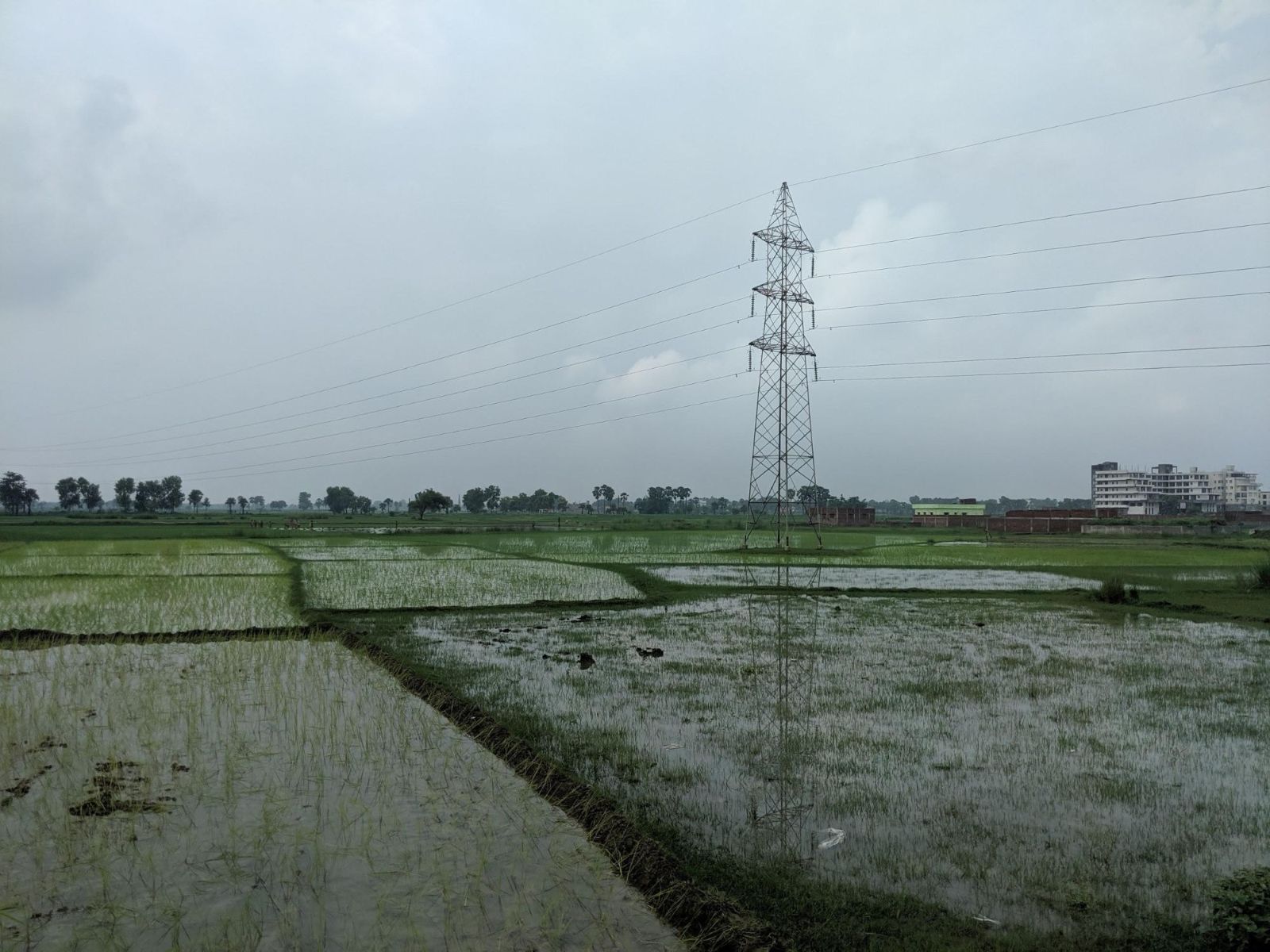 Another nice view on-the-way, we have a number of electrical engineers in our group so they may be obsessed with the tower at a distance, but the rest of us may be more attracted to the padi fields.
It's been raining for the past few weeks, parts of the villages are filled with flooded potholes.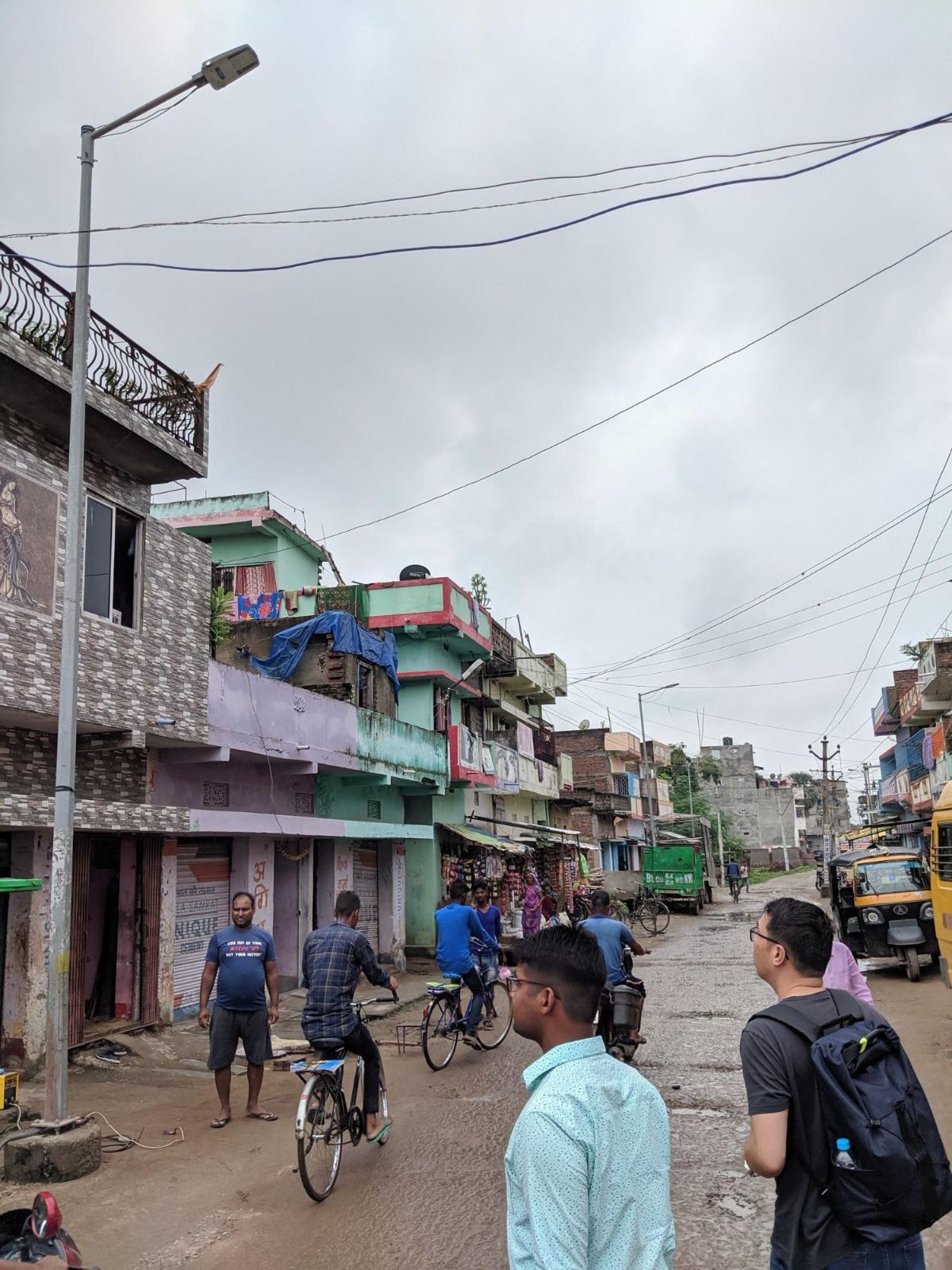 Arrived at the carpenter's turf.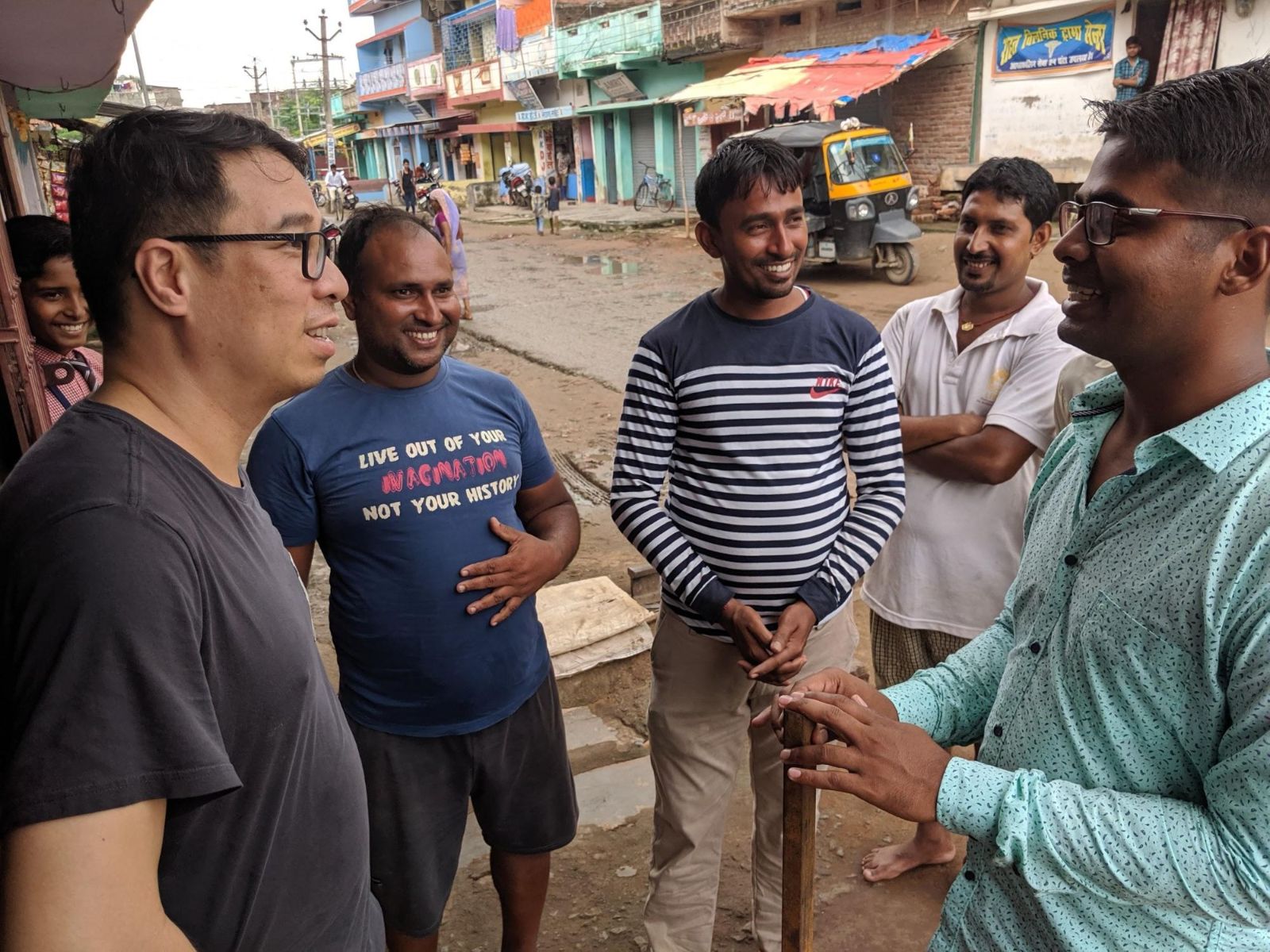 Here we met the Carpenters.
Raj became centre of attention, without him we would just be nodding and smiling at each other politely and no meaningful message exchange.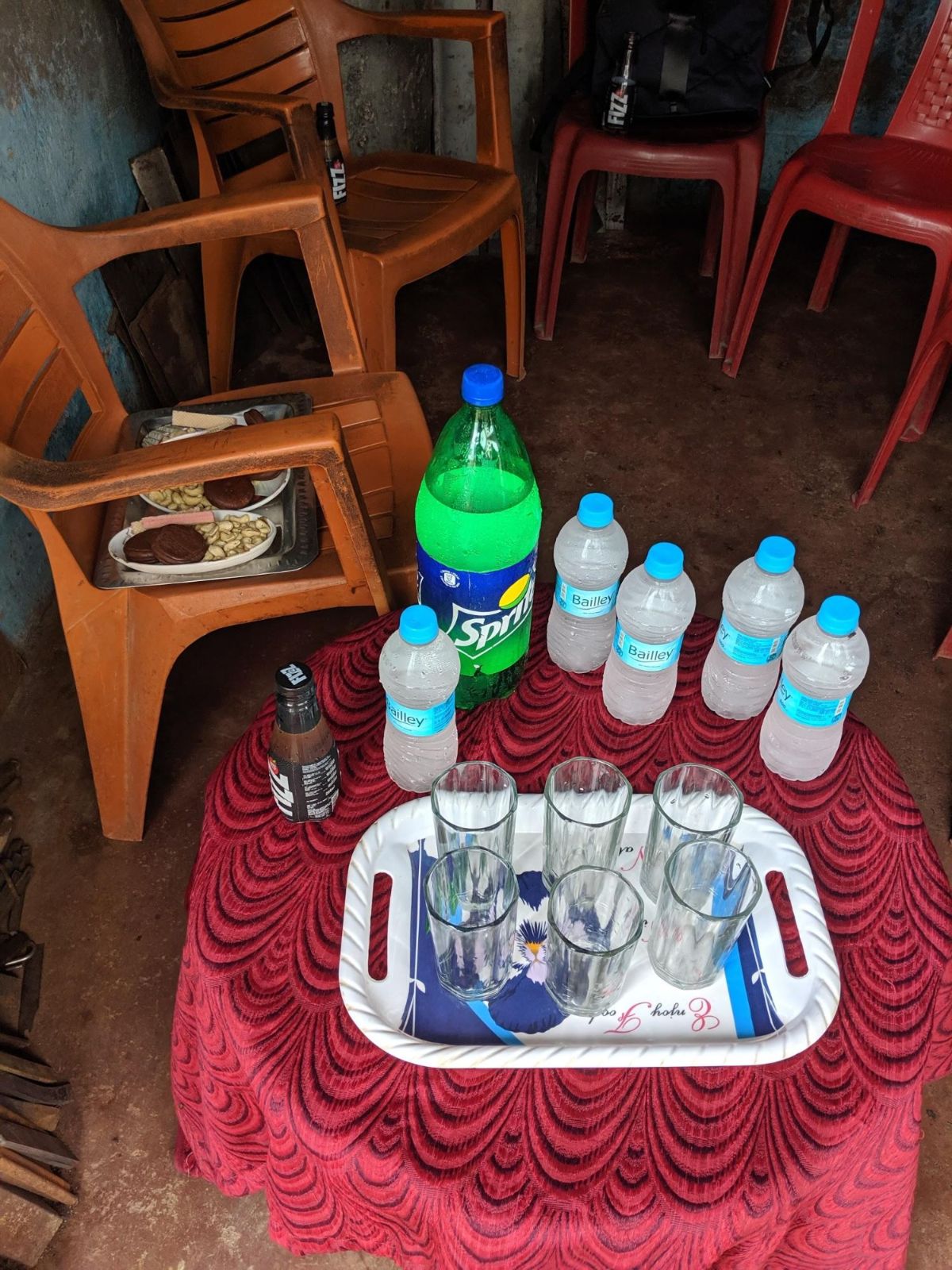 Here is the furniture arrangement and refreshments served when we arrived – for a moment I felt like King, although we ended up didn't sit for long, and hardly touched the food and beverage.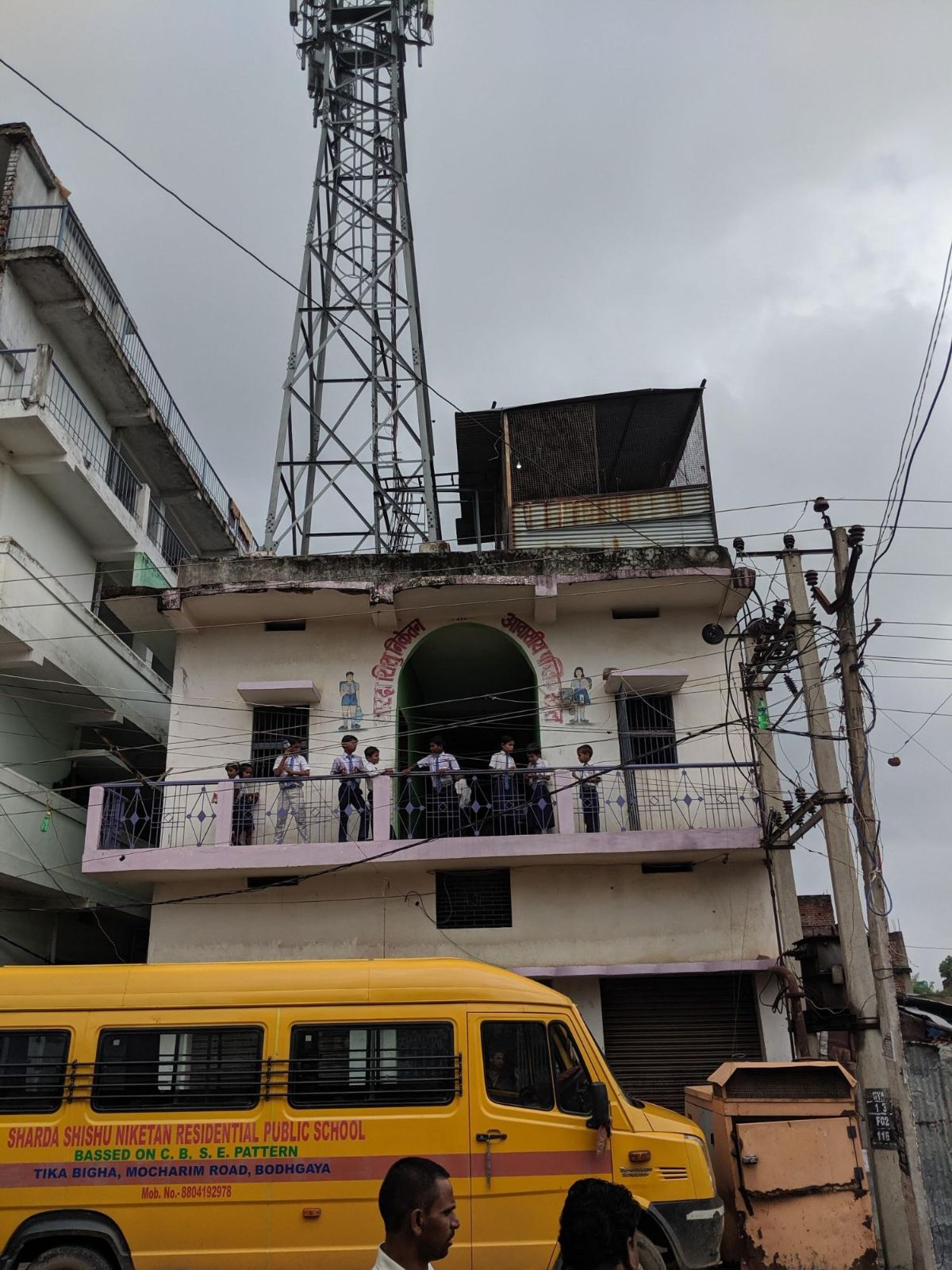 A nearby Private school, but not sure why it's also called Public school.
Group photo showing happy faces as a result of good partnership.
According to Raj, the carpenters do most of their work on the adjacent land, since there is probably not enough space in the main shop, but it's doing a good job of fitting a few chairs, a table and some untouched refreshments.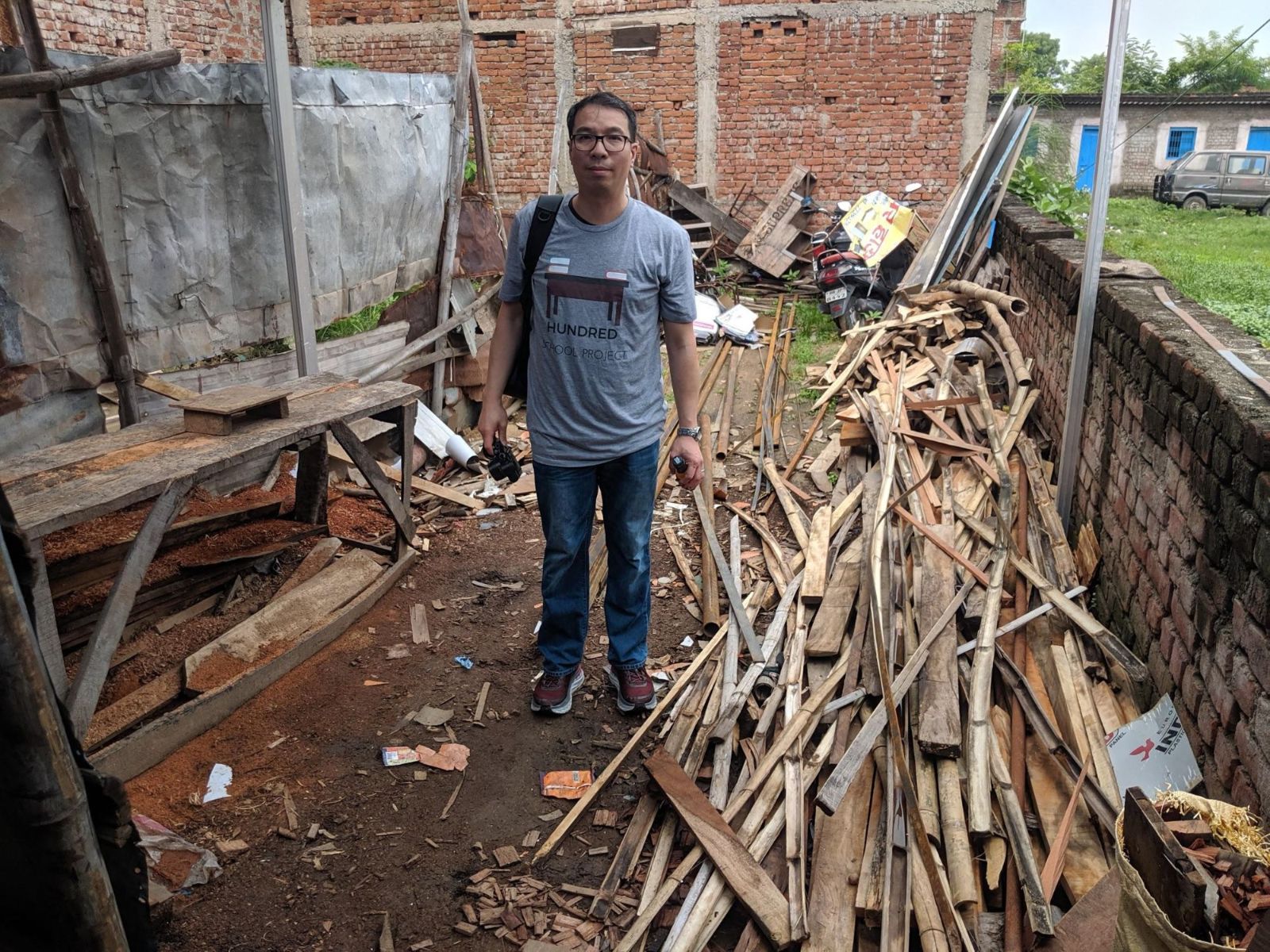 Directly opposite the first shop, here's another shop also involved in making our chair-desk sets. Supposedly one of them does the woodwork, and the other does the metal work.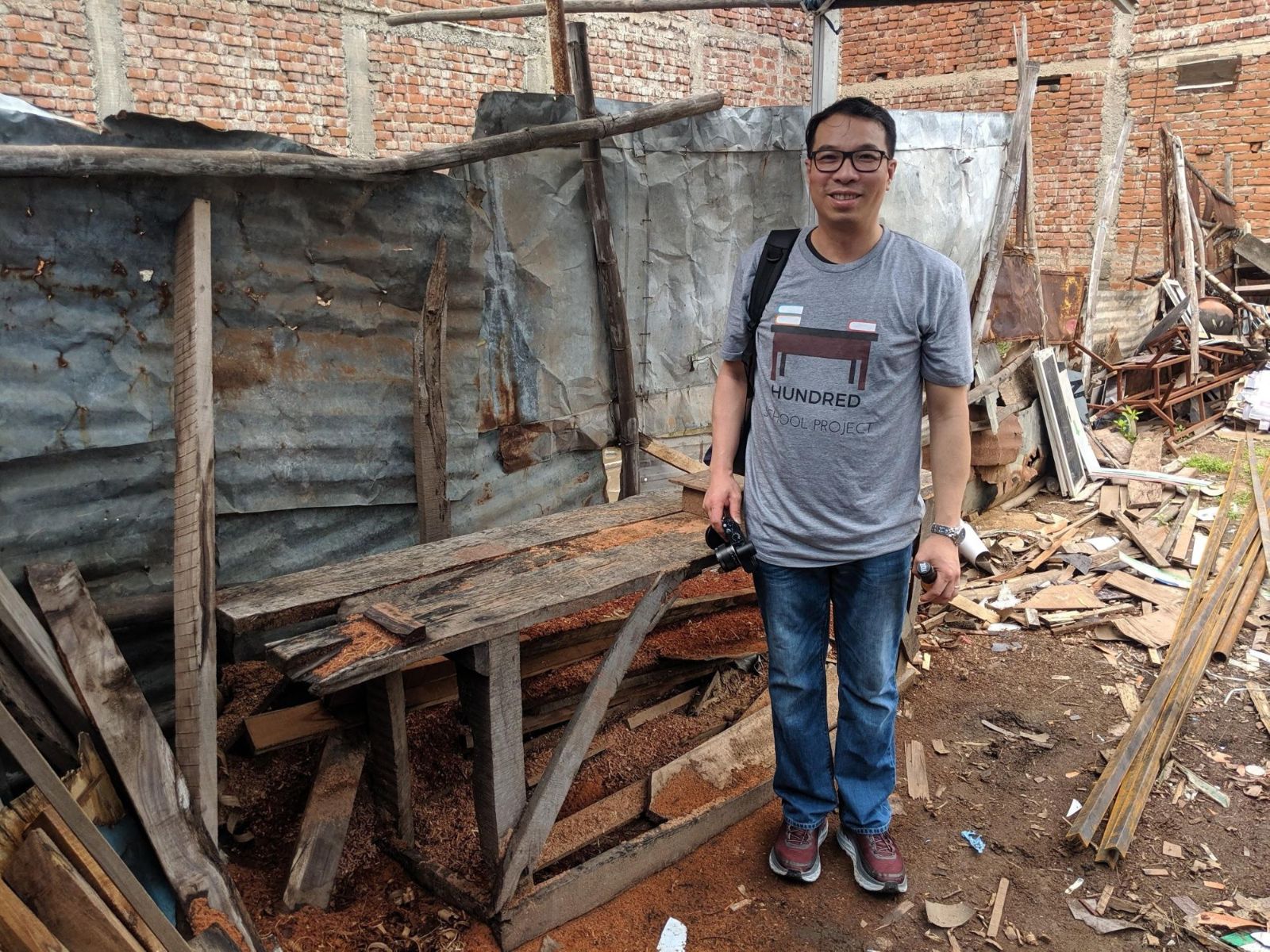 Alan feeling proud standing next to a state-of-the-art machinery thingamajig.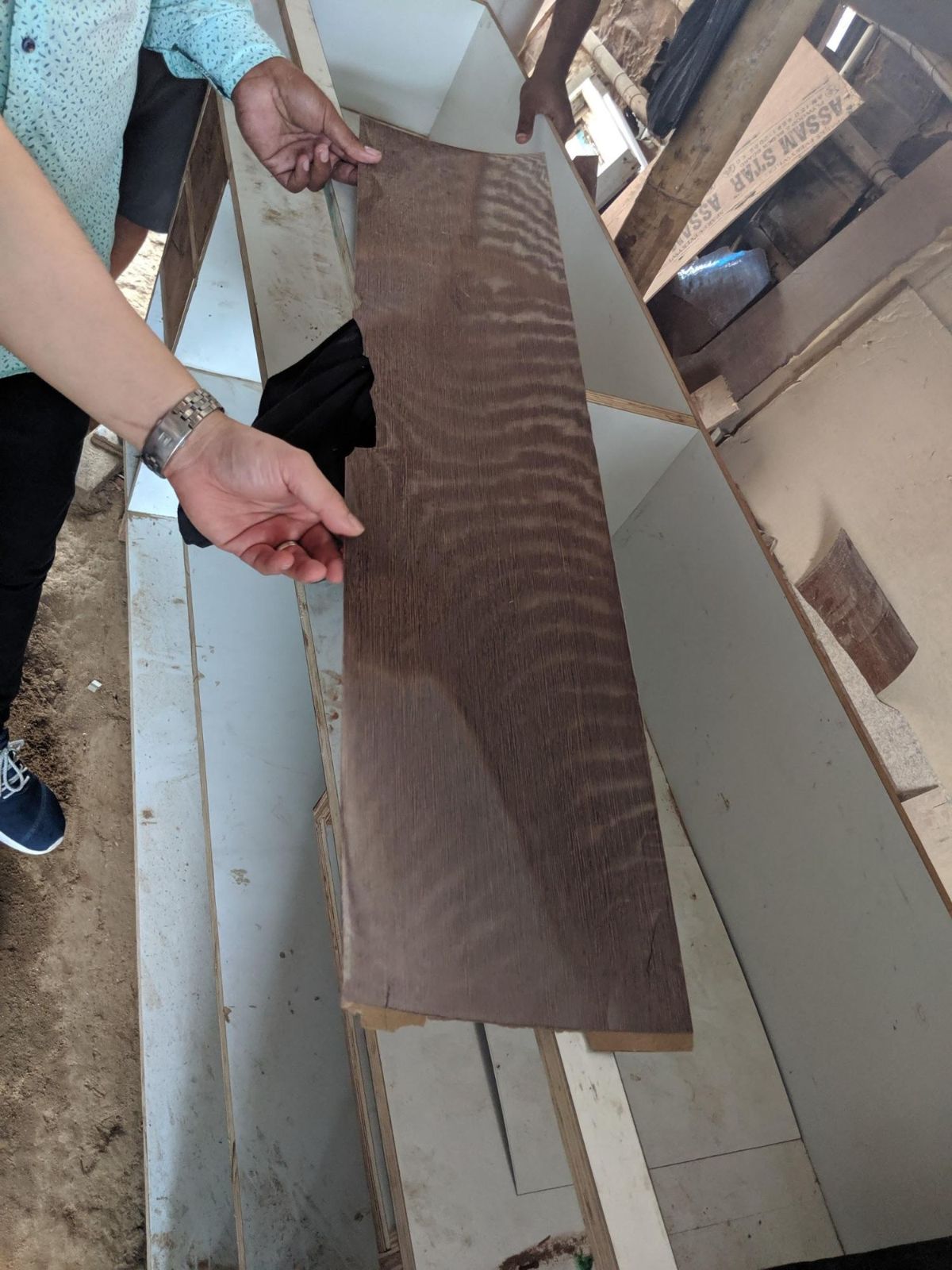 A laminate material used for our desks.
The exact wood material used for our desks. Great prizes await anyone who can name the correct term for this material.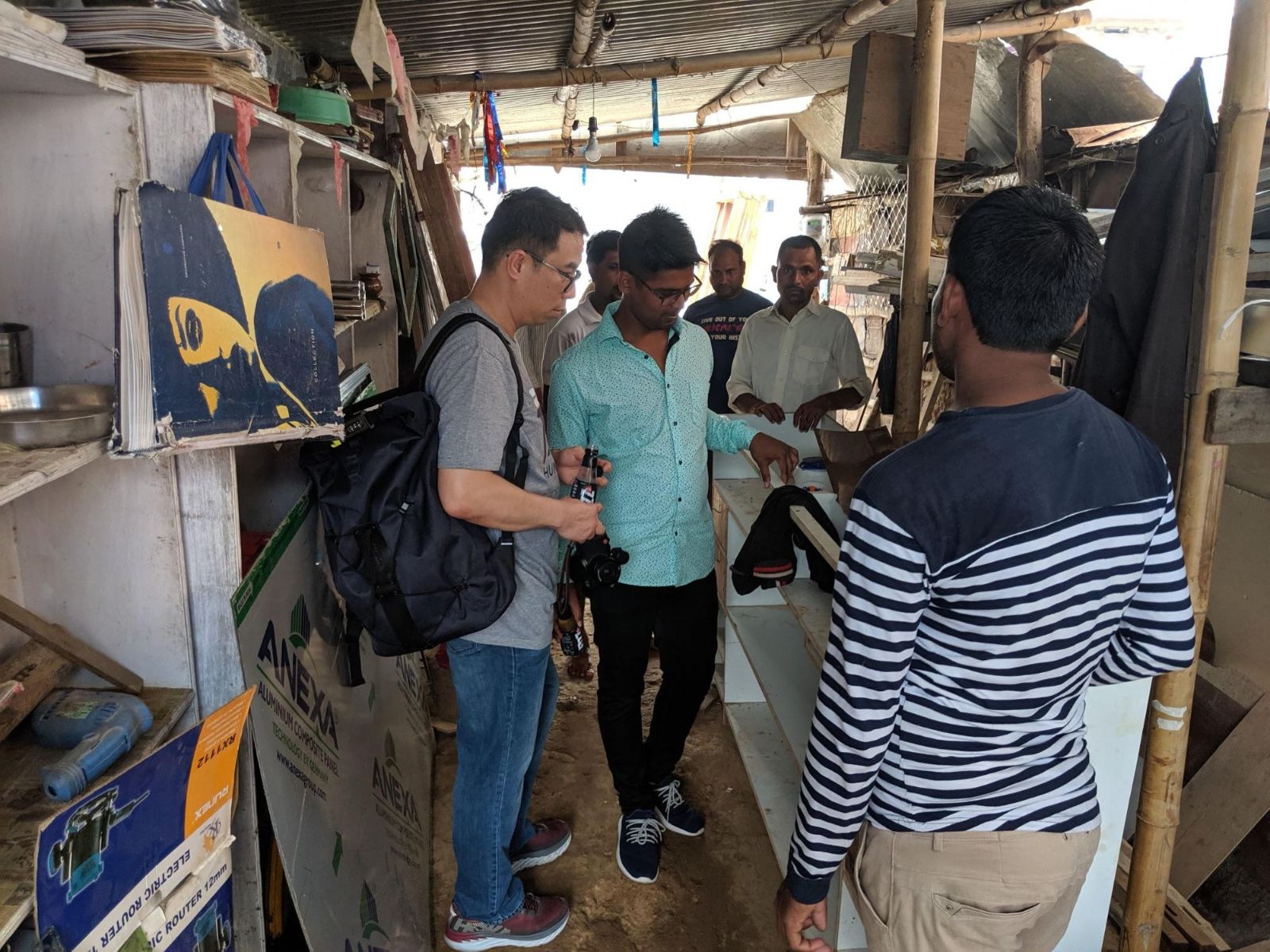 Acting professional when inspecting one of the furniture to verify its quality, surrounded by actual professionals waiting eagerly for any feedback.
Good news for us is Raj's feedback. These carpenters are attentive and responsible in their work. At times when Raj was too busy to arrange delivery of completed furniture, they would coordinate the deliveries themselves.
A vital question is to find out their ability to scale up. Currently they have built us batches of 30 chair/desk sets consistently. Let's say if we have an order of 100 sets, then they would still build them in batches of 30 until they fulfil the target number. This is due to their restrictions in manpower and available space. Seemed like we are reasonably satisfied by this response.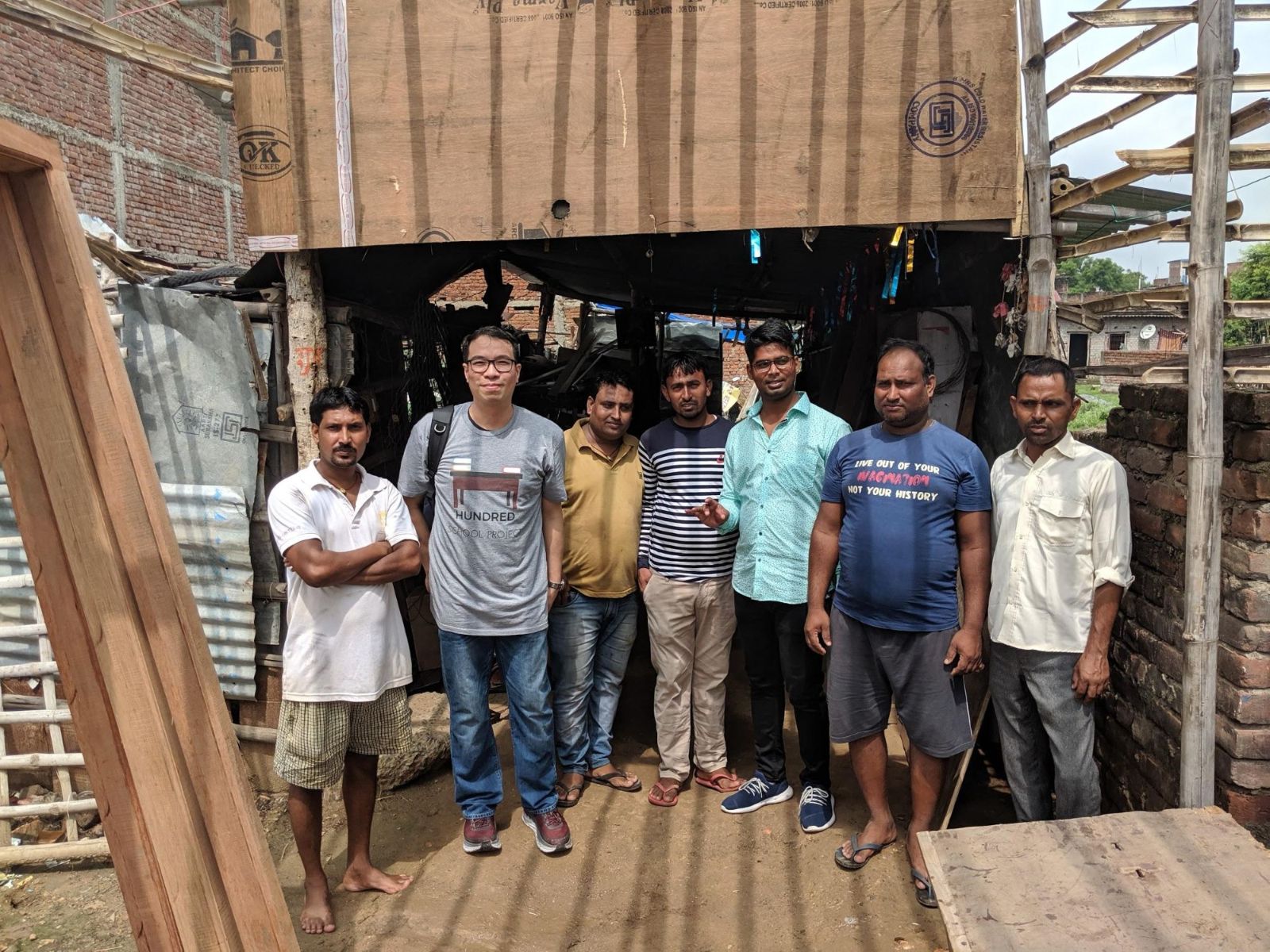 Quality checked, questions answered, so another group photo with happy and satisfied faces.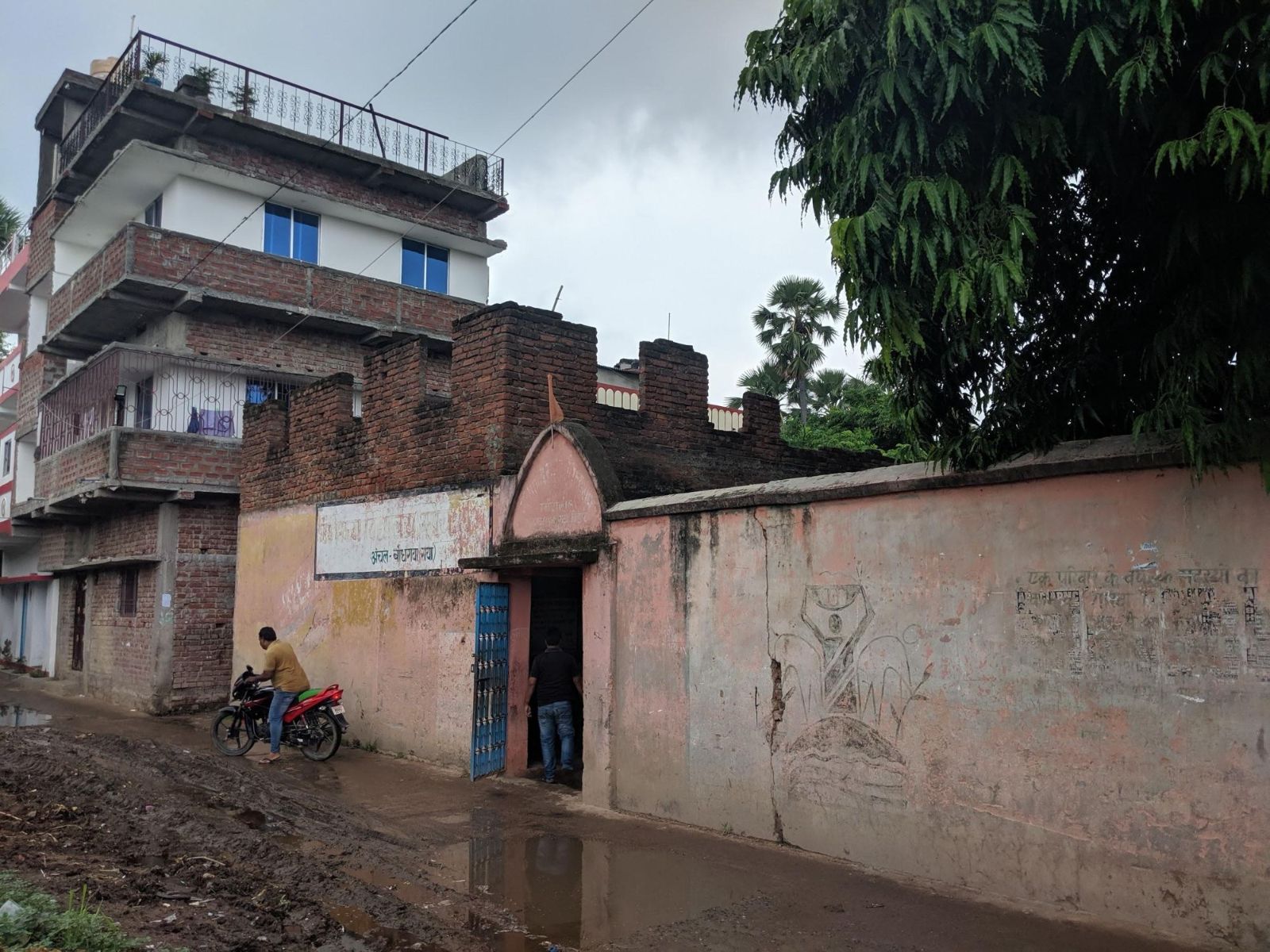 After another series of twist-and-turns for about 15 mins, we arrived at our first school.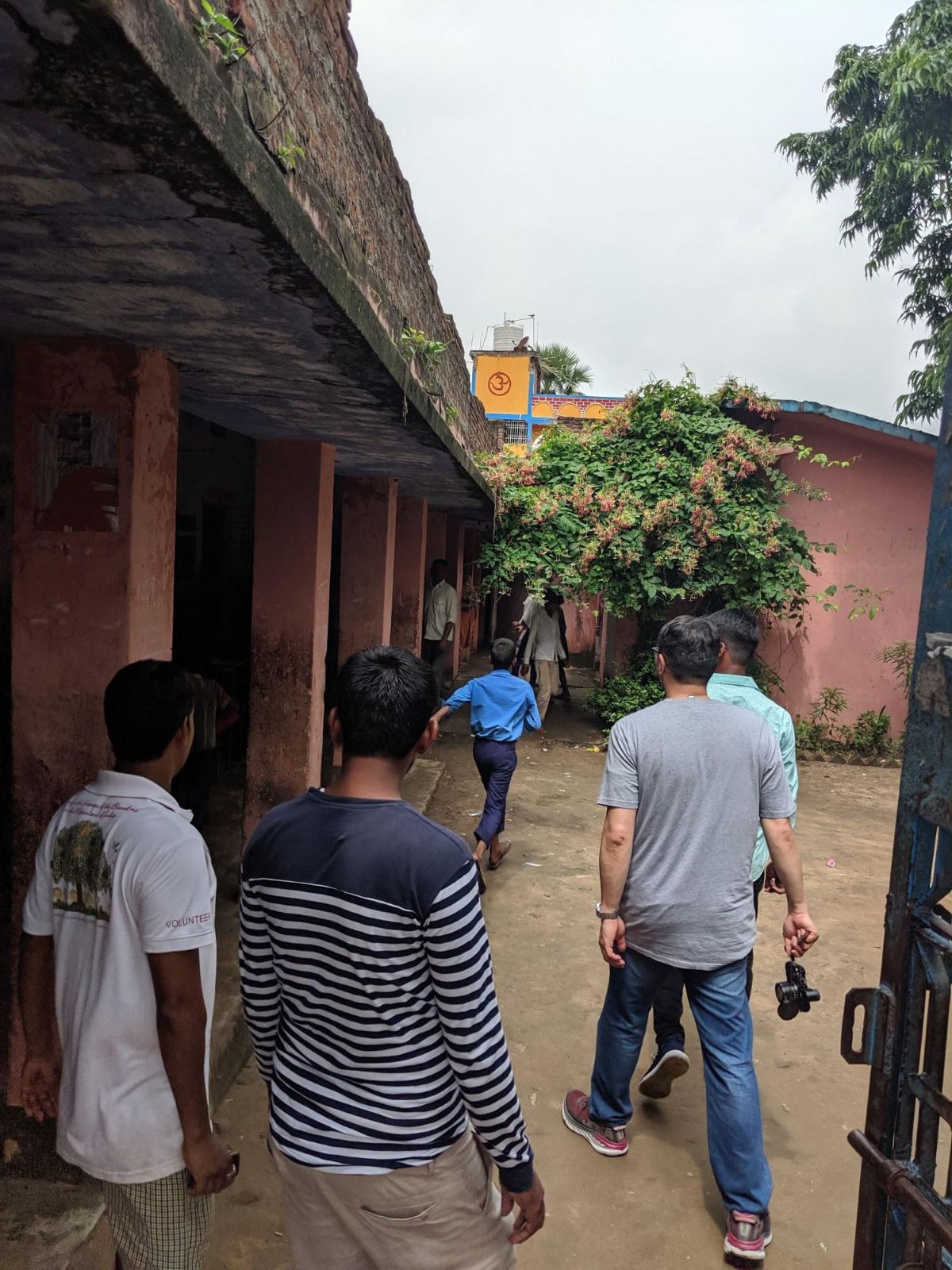 Everyone's moving at a fast and eager pace. If you notice the t-shirt pattern, the earlier carpenters also followed us here. As for why? Go figure.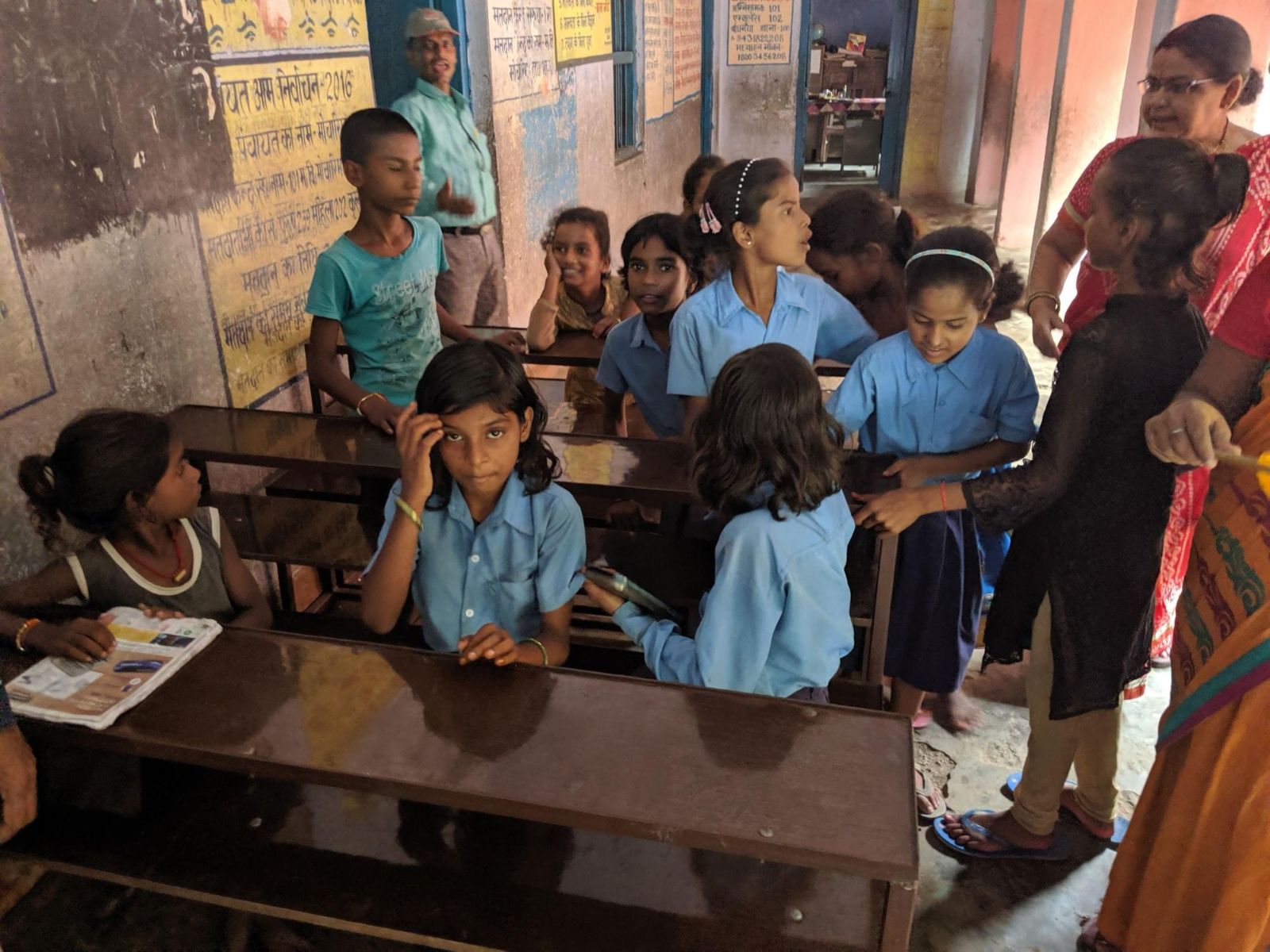 Desk and chairs were moved outdoor because of reasons you will see later. As for the furniture, they are still in near-new condition, hardly any scratches. I guess big sigh-of-reliefs for the carpenters.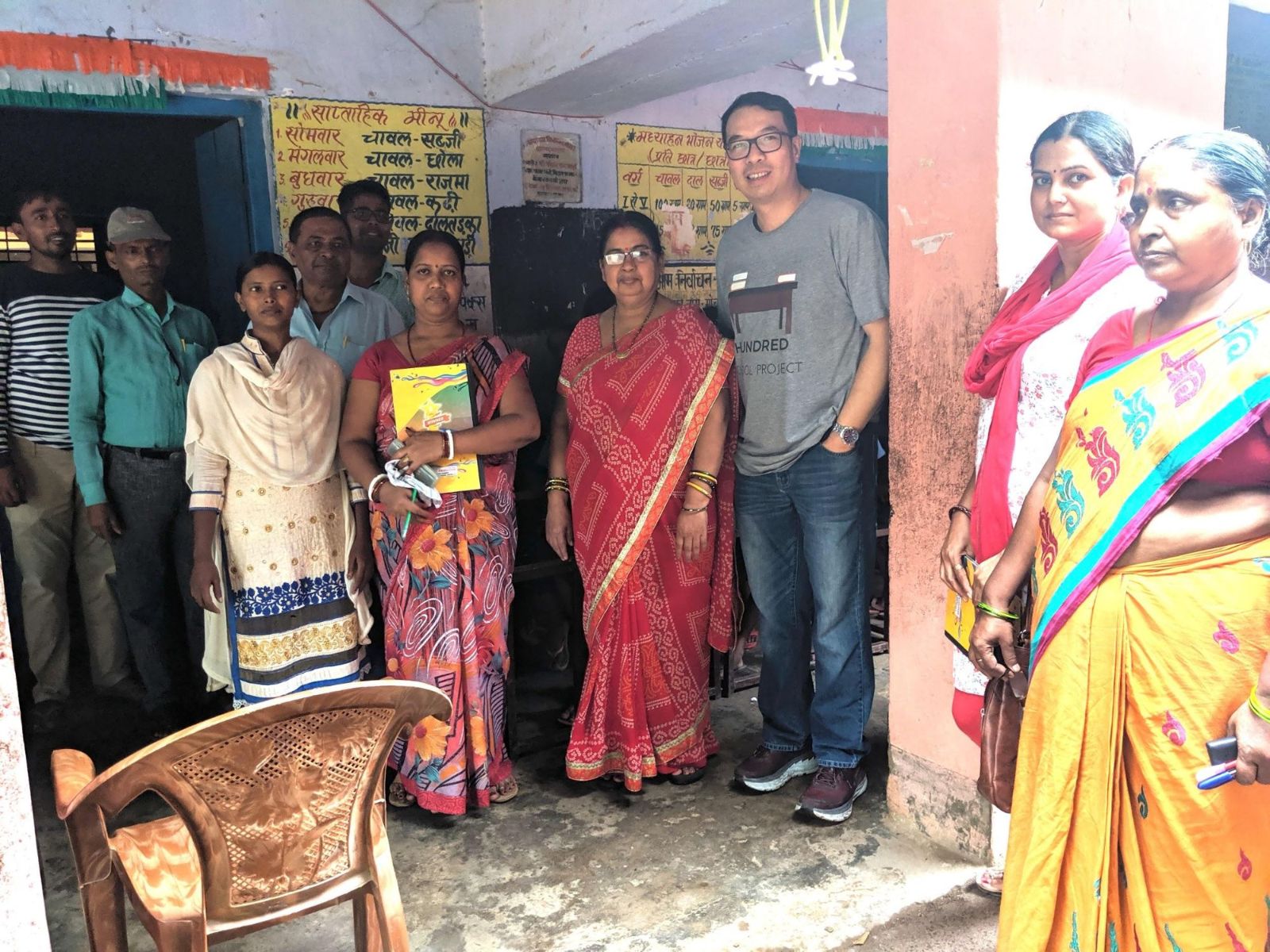 Photo with teachers and headmaster, and you can also see one of the carpenter's smiling face.
Oh, did anyone notice Alan has put on 100 School's signature t-shirt?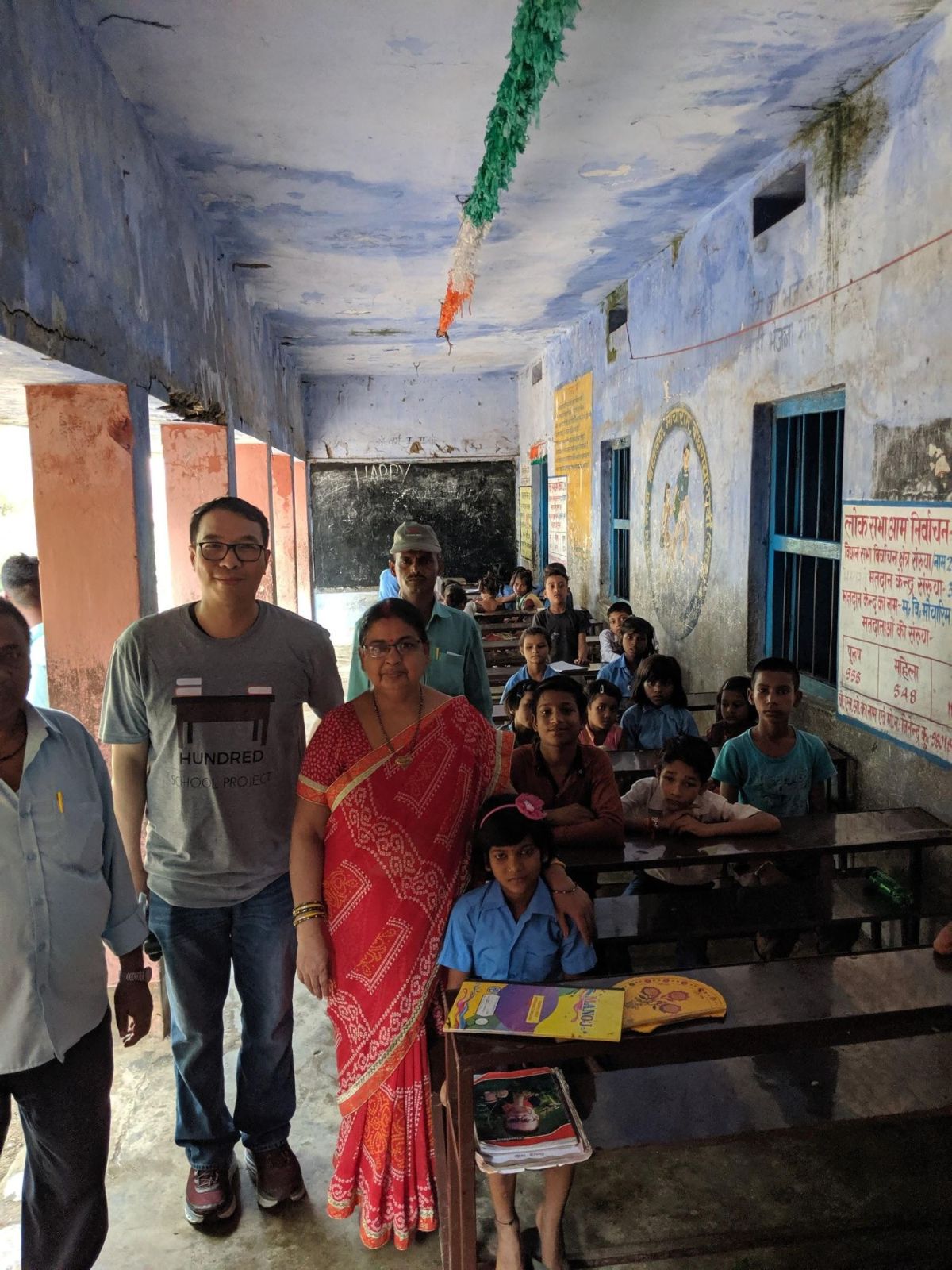 Another photo with the headmaster and a probably terrified student.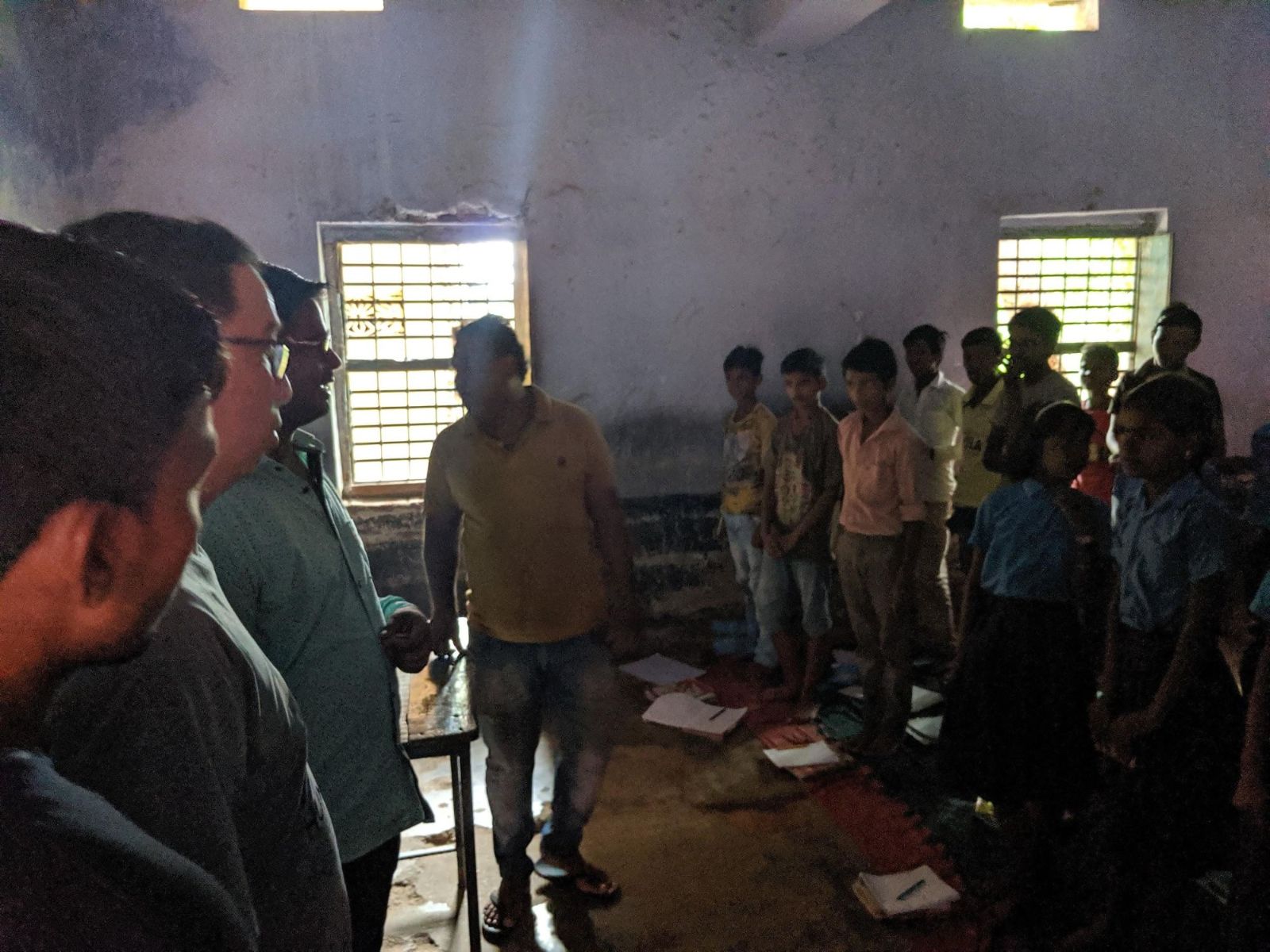 We continued to another part of the school. This senior classroom has yet to receive our donations, and there are more worrying things as well.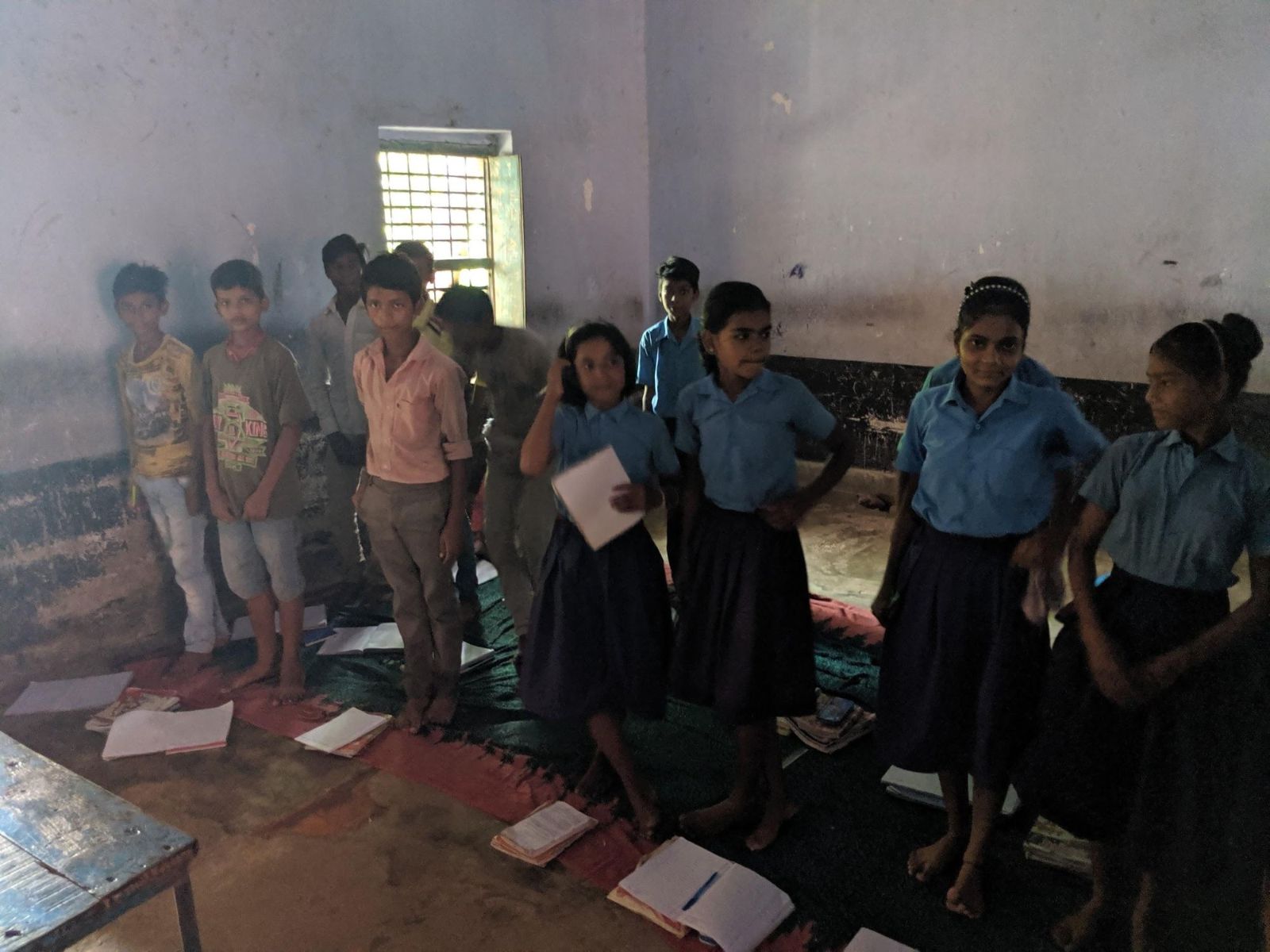 Notice how dark the room is? It's difficult to picture how they manage to see much at all, let alone read.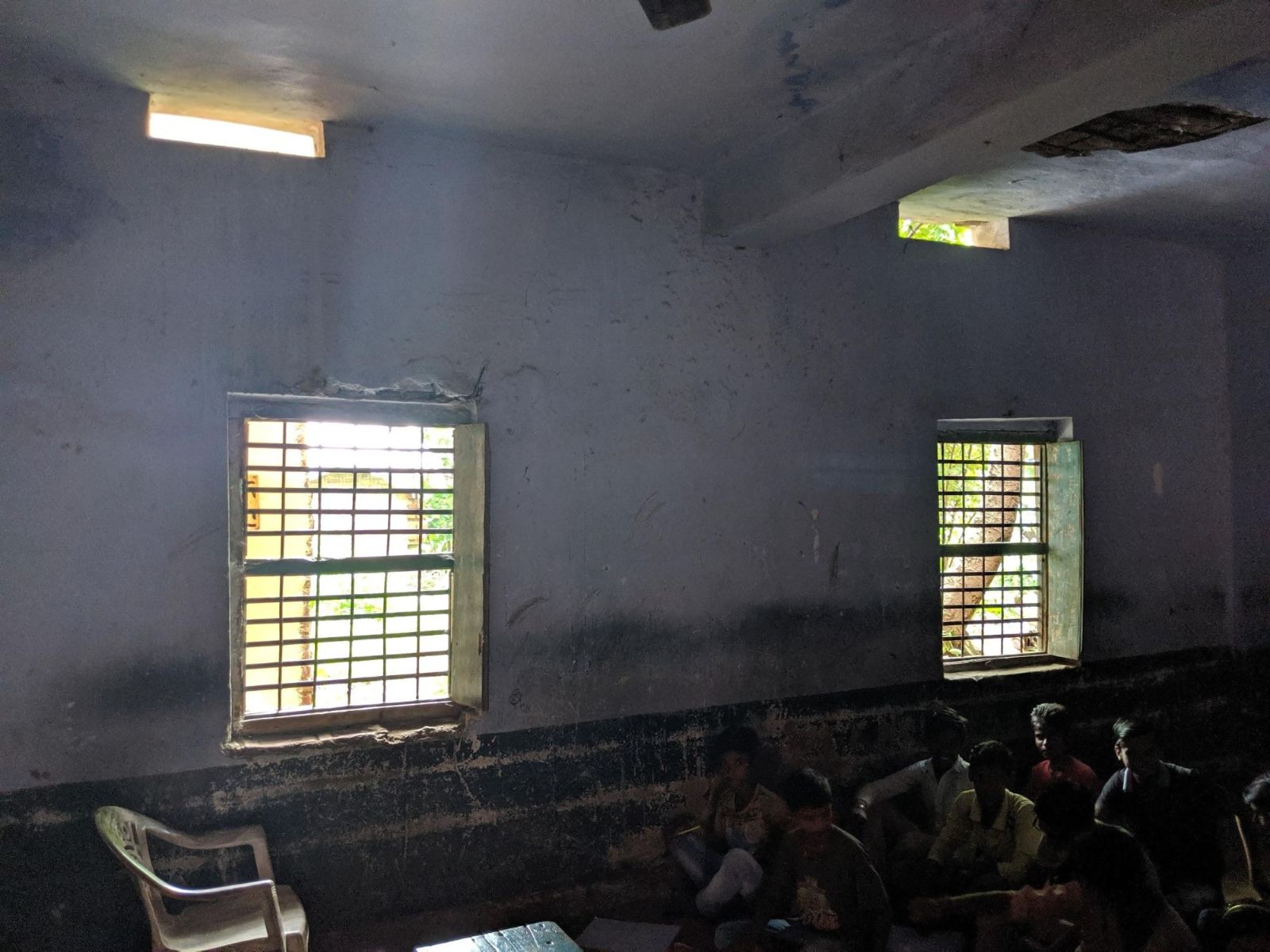 Probably these small and narrow windows are somewhat to blame, but other factors can be the classrooms are not receiving direct sunlight and partly blocked by adjacent buildings.
Also not seen in the photos are the faulty ceiling fans. Who knows how long they've stopped working and when they will start working again. Due to the summer heat, most classes were moved outdoor, although the remaining students are still stuck indoors due to insufficient space.
Some of the things we can look further to assist:
Install lighting for all classrooms.
Repair or replace the faulty fans.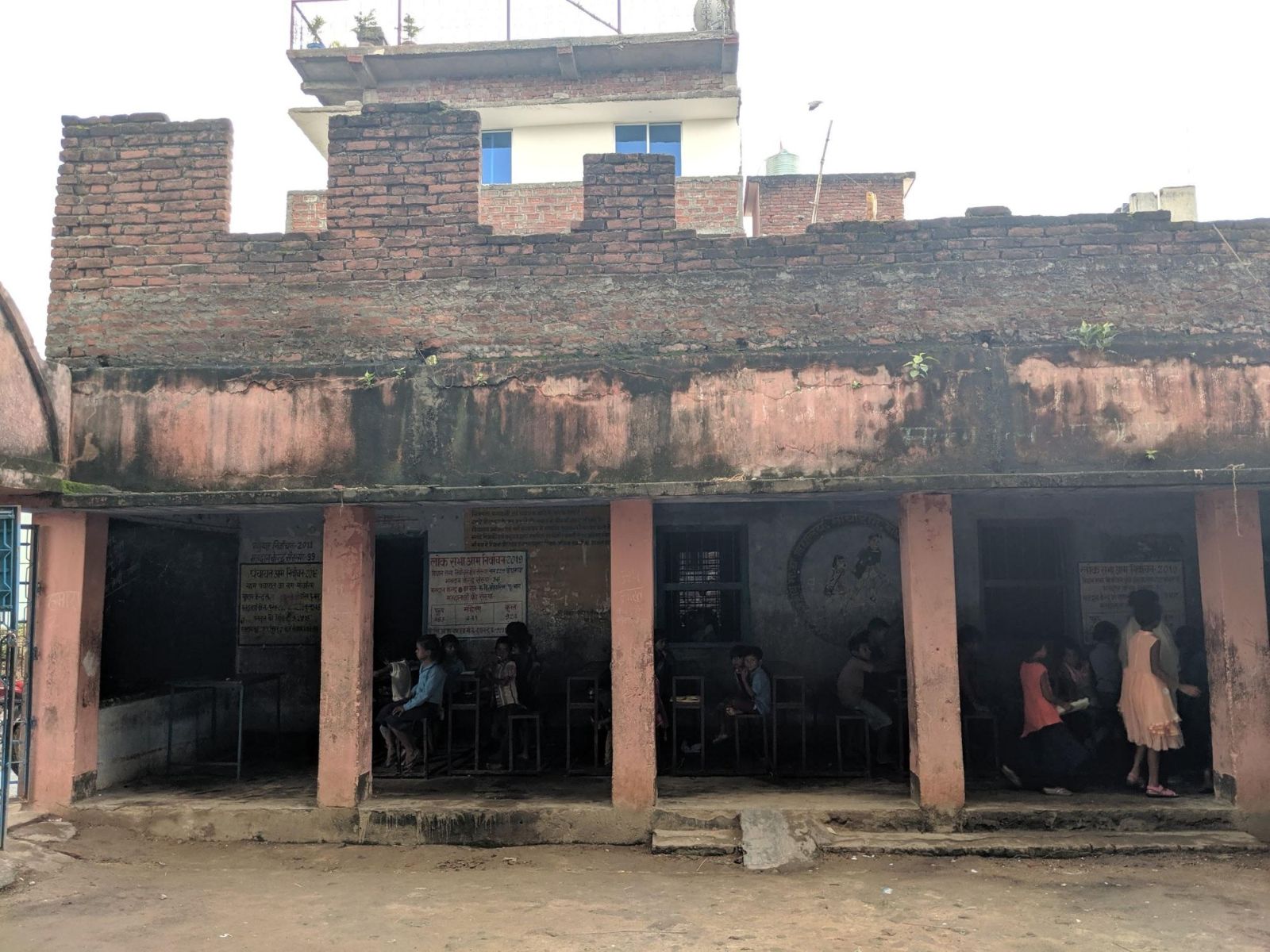 Another photo showing the school's building condition.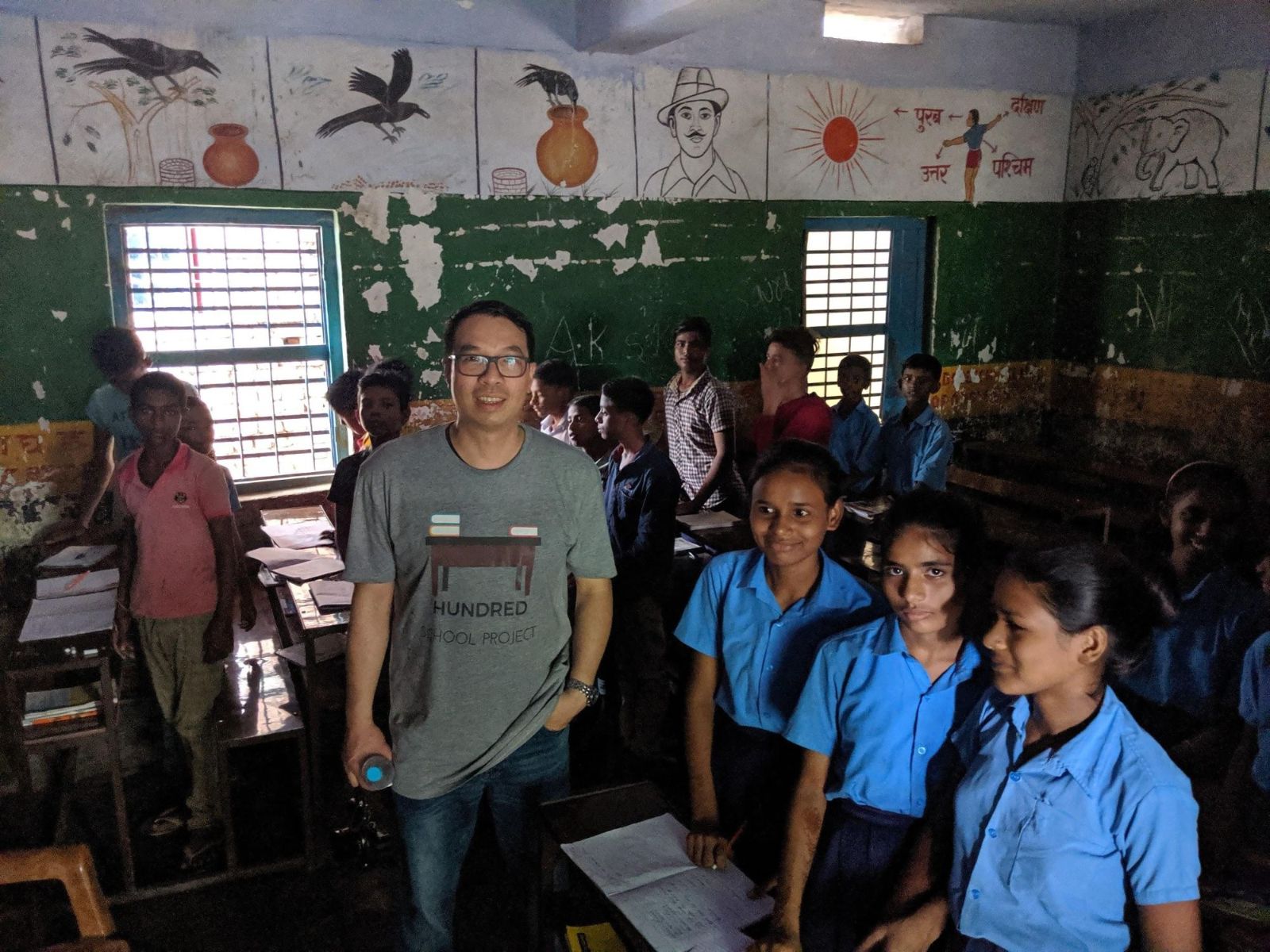 One classroom with our chair/desk sets.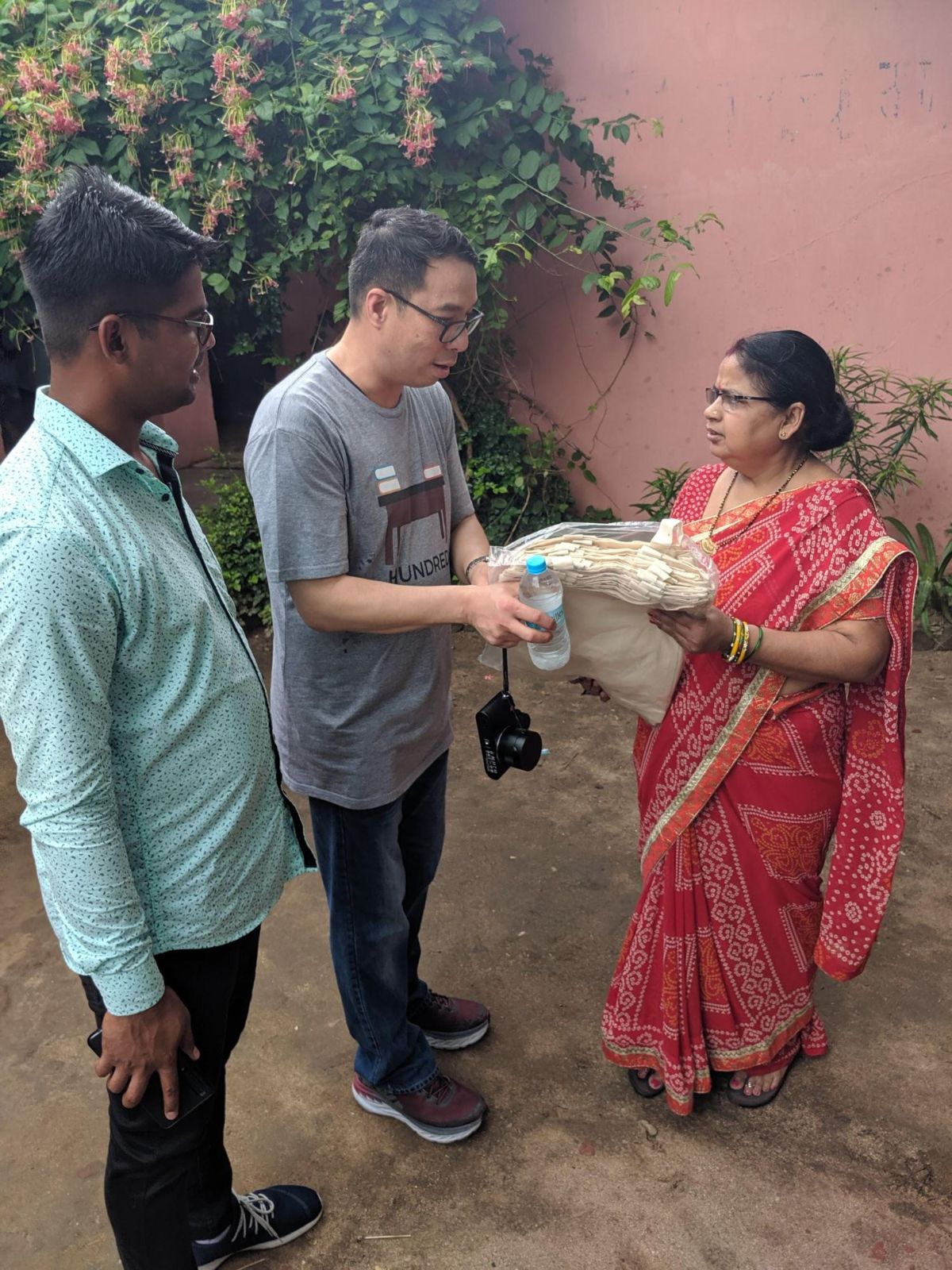 Handing gift of 100 School's green bags to the Headmaster. Alan specifically mentioned only obedient students can receive them.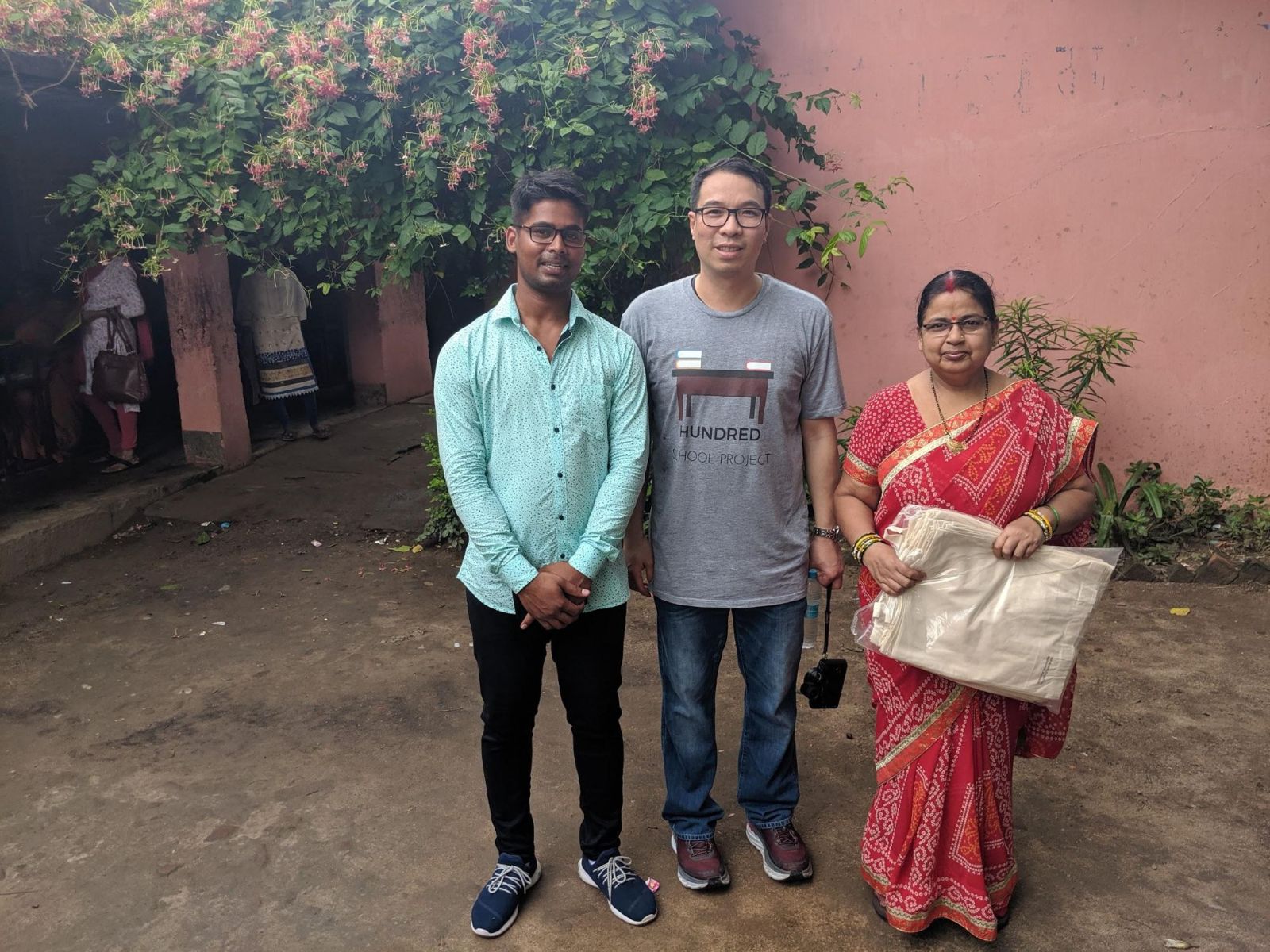 After a staggering 30 mins, we arrived at another school.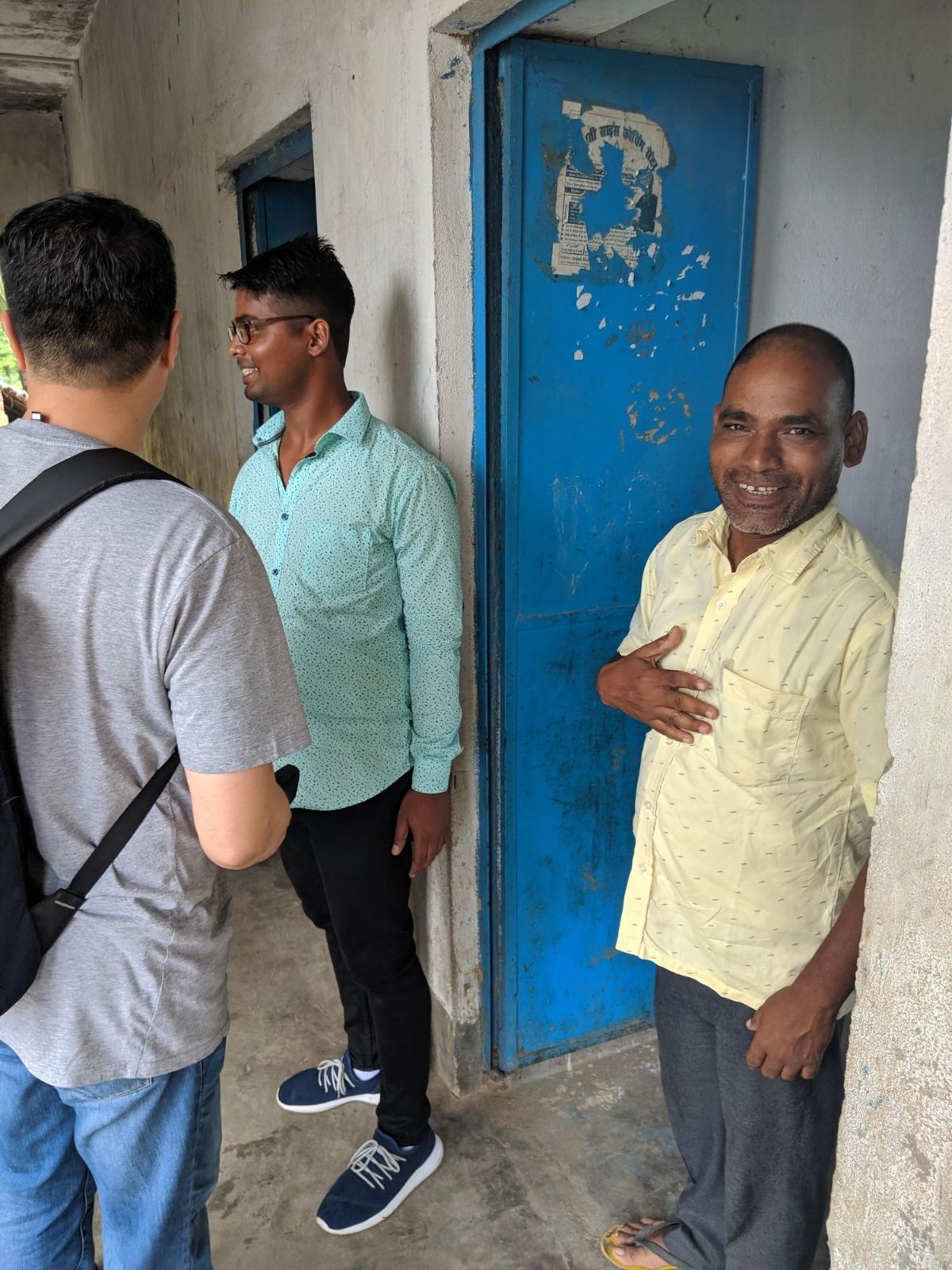 This is the headmaster of this school. He's my favourite of the day! Why? Read on.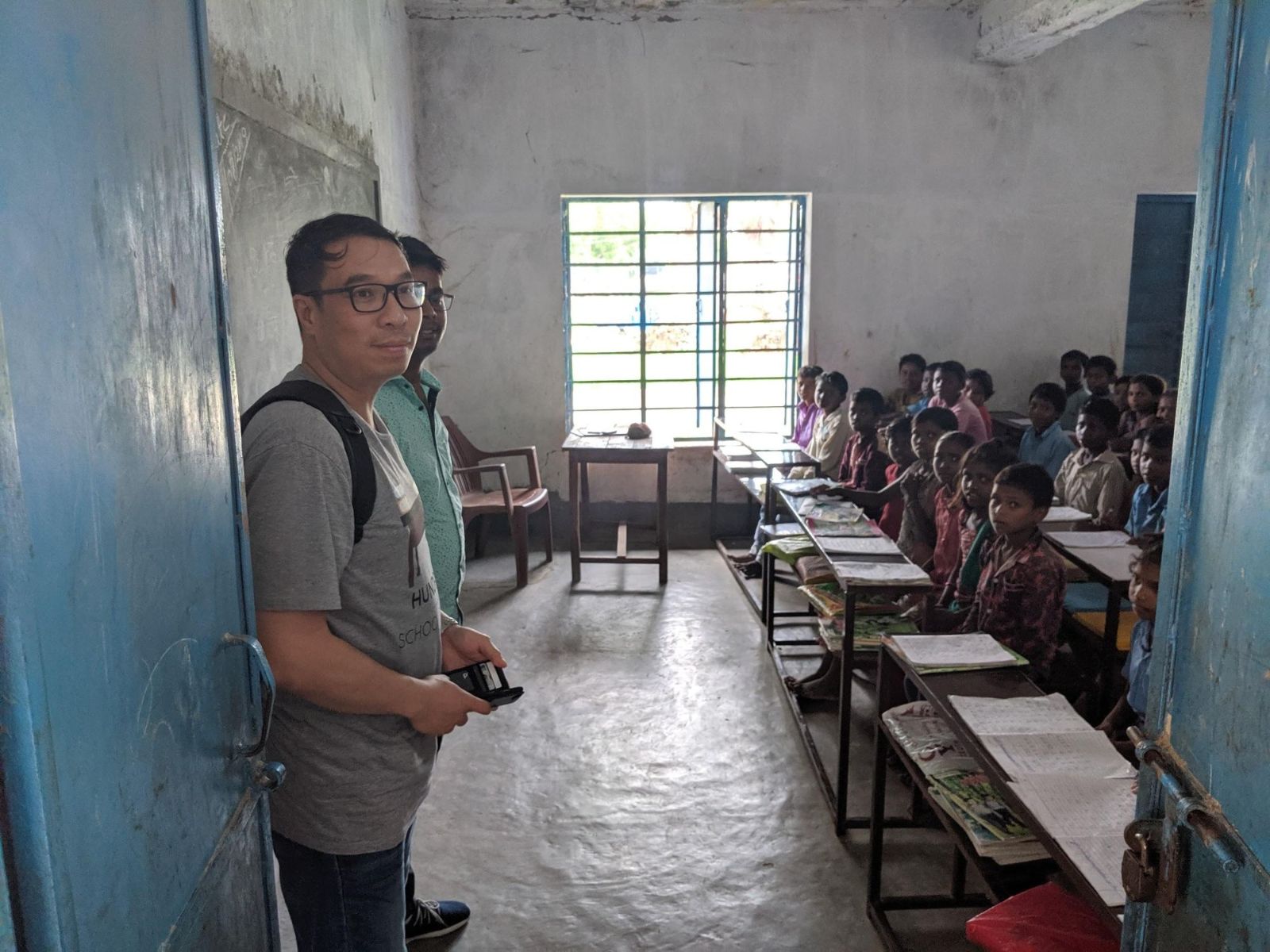 Visiting the first classroom. Usually we would be greeted by a chorus "Good Morning Sir!"
And after Alan asks "Good morning, how are you?", he would be met by silence....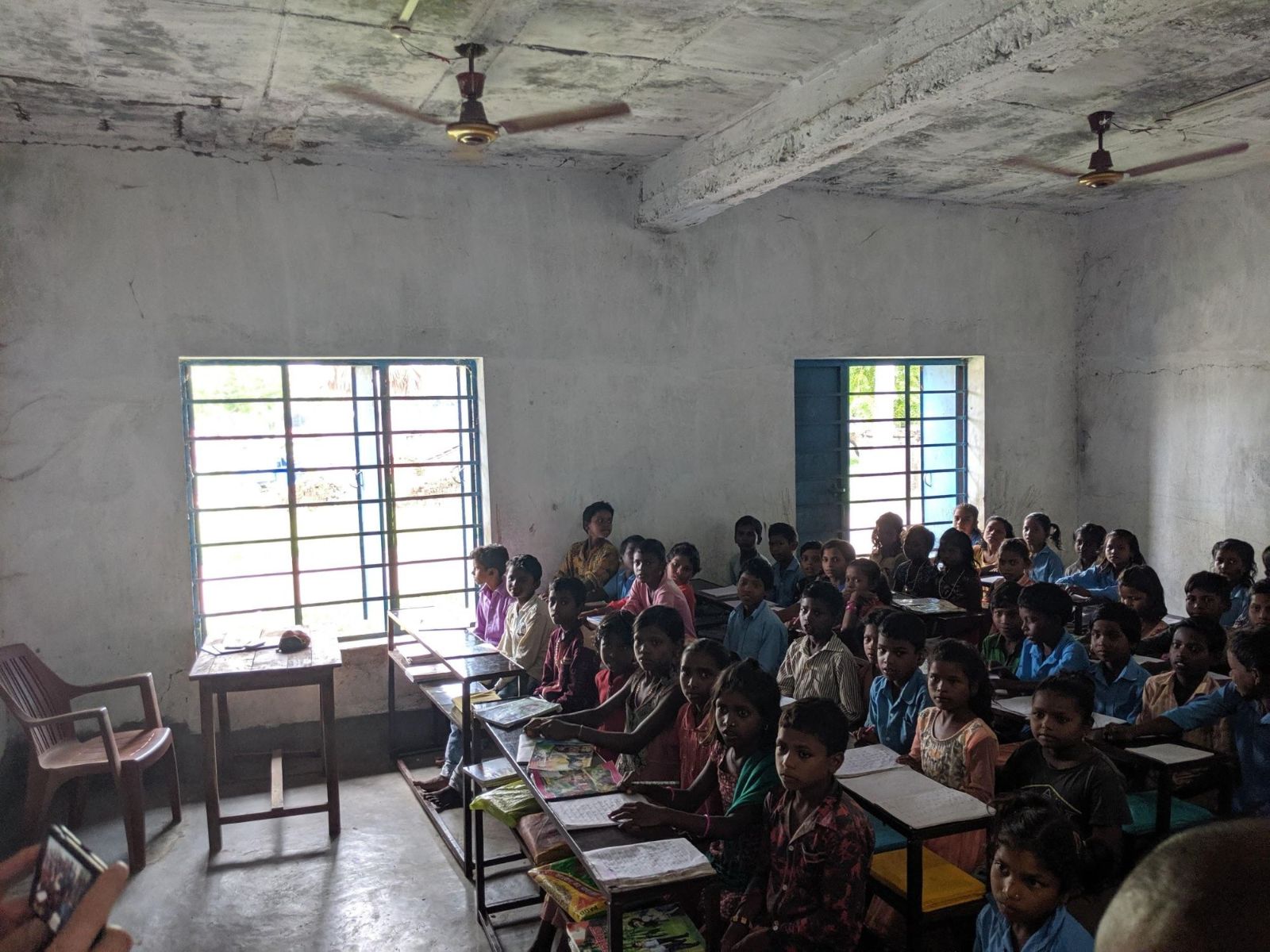 Good signs – plenty of natural sunlight, working ceiling fans...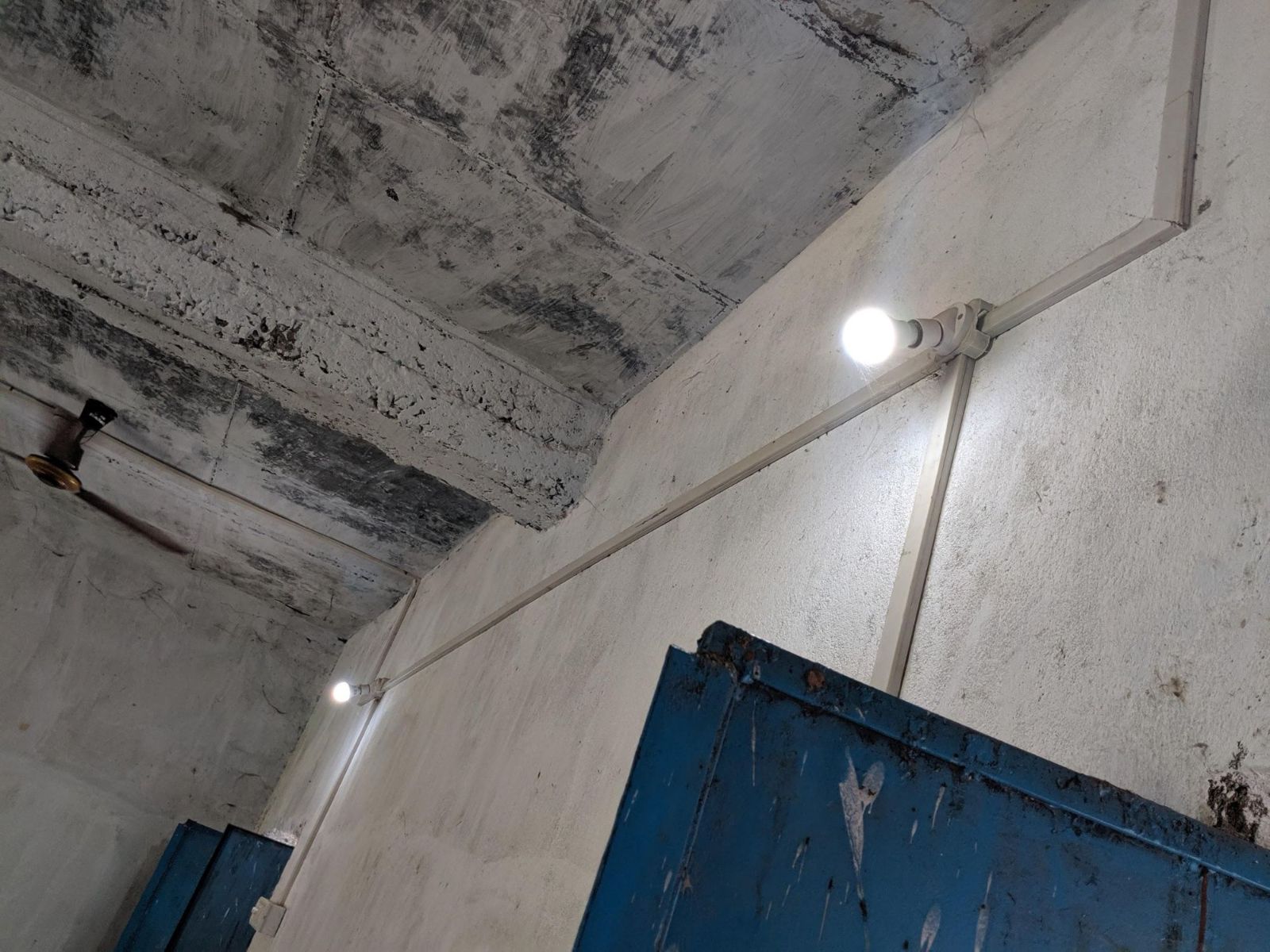 And indoor lighting!!
This admired headmaster took initiatives to get any faulty electrical appliances repaired, wait for it... using his own salary! He figures the red-tape process taken to arrange for a repair would take ages (as faced by the first school), so he immediately arranges for any repair himself, so the students can continue to receive an education in a suitable environment.
Also for the record, lighting supplied and installed for all 4 classrooms cost about INR 43,000 (AUD 1000), so something to consider if we want to do something for the first school's insufficient lighting.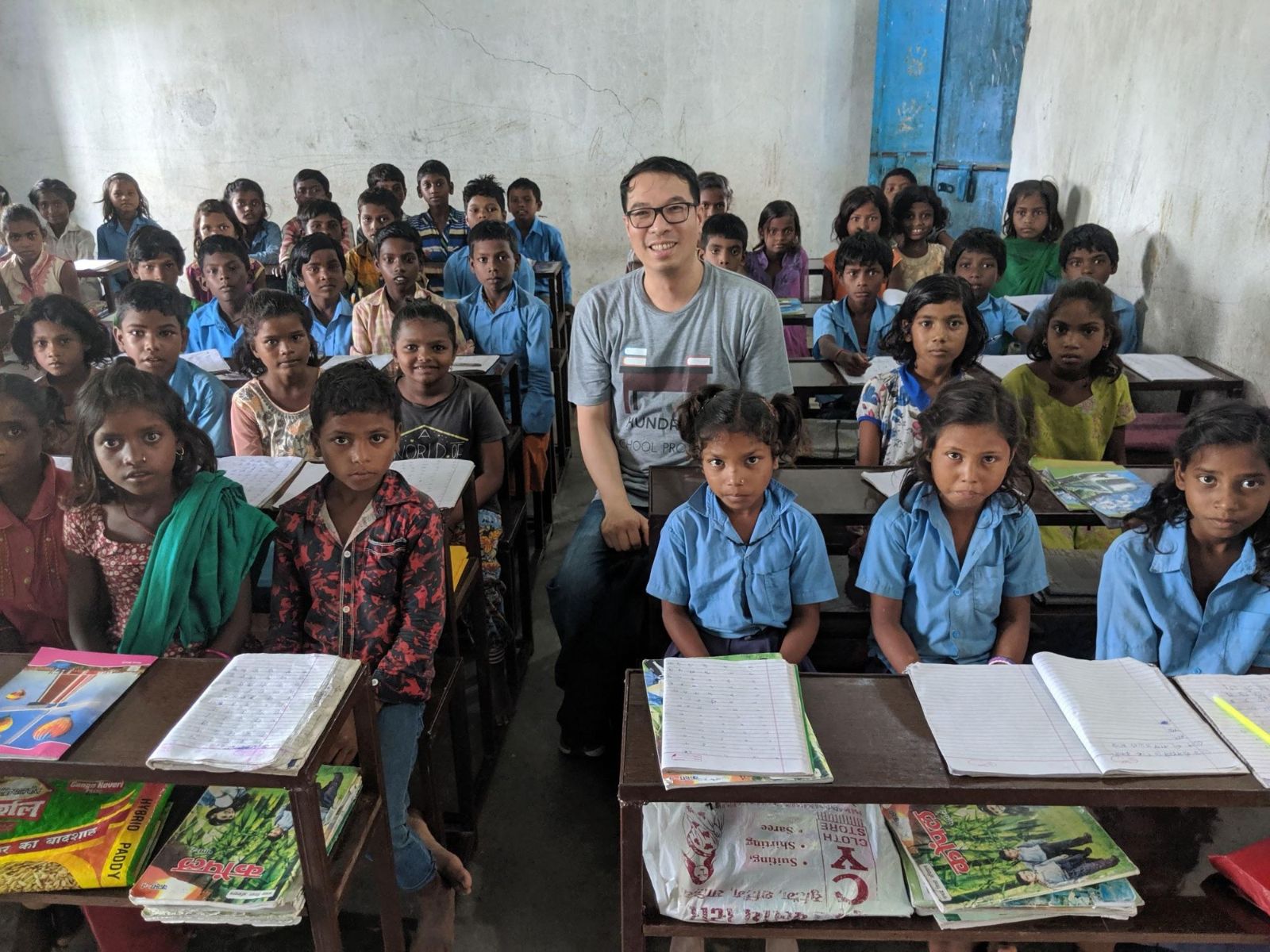 Alan happily mixing with the crowd.... and blocking the students behind him.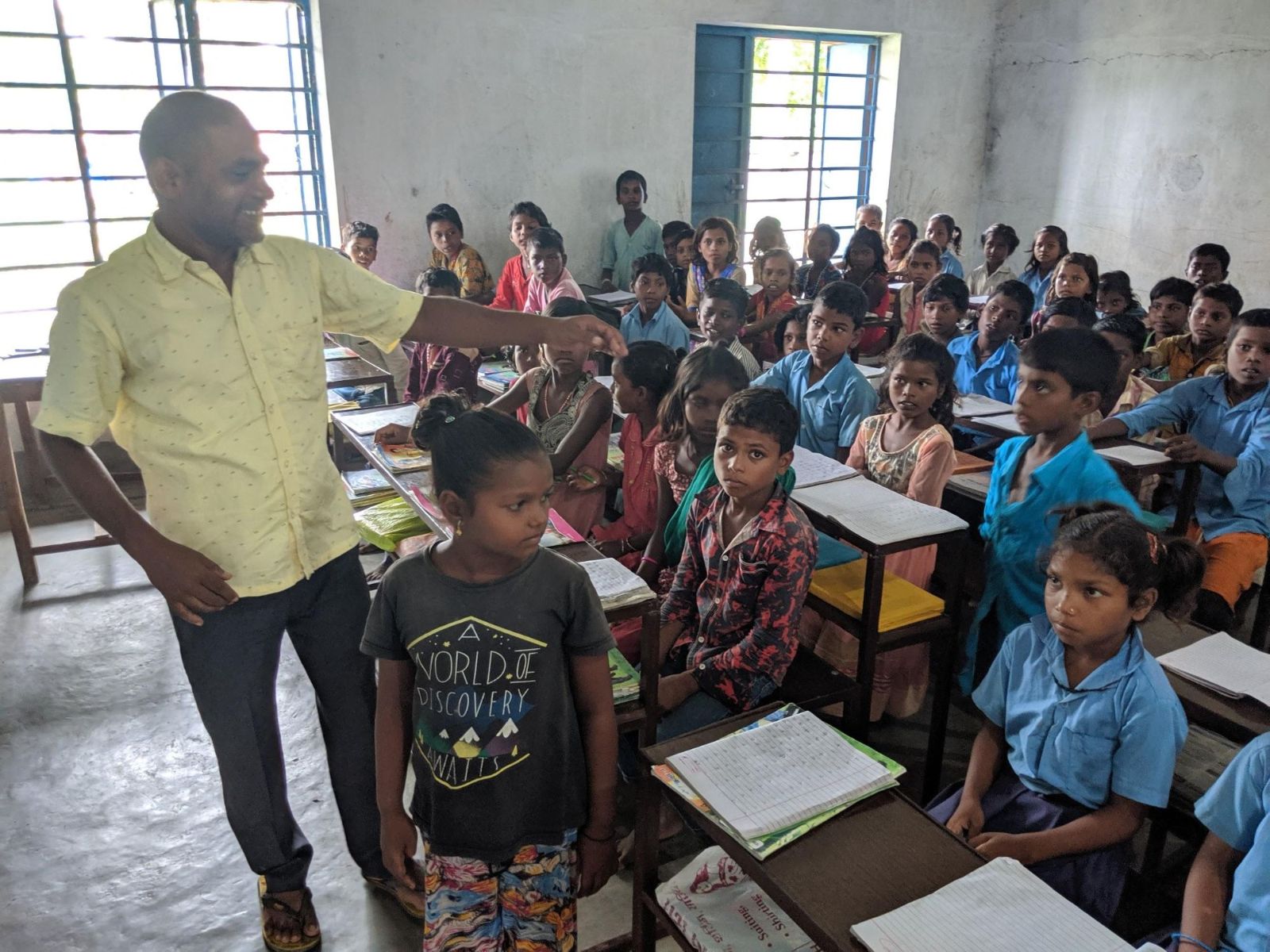 The headmaster continues to point out other things to improve.
First, not every student receives a government-sponsored uniform.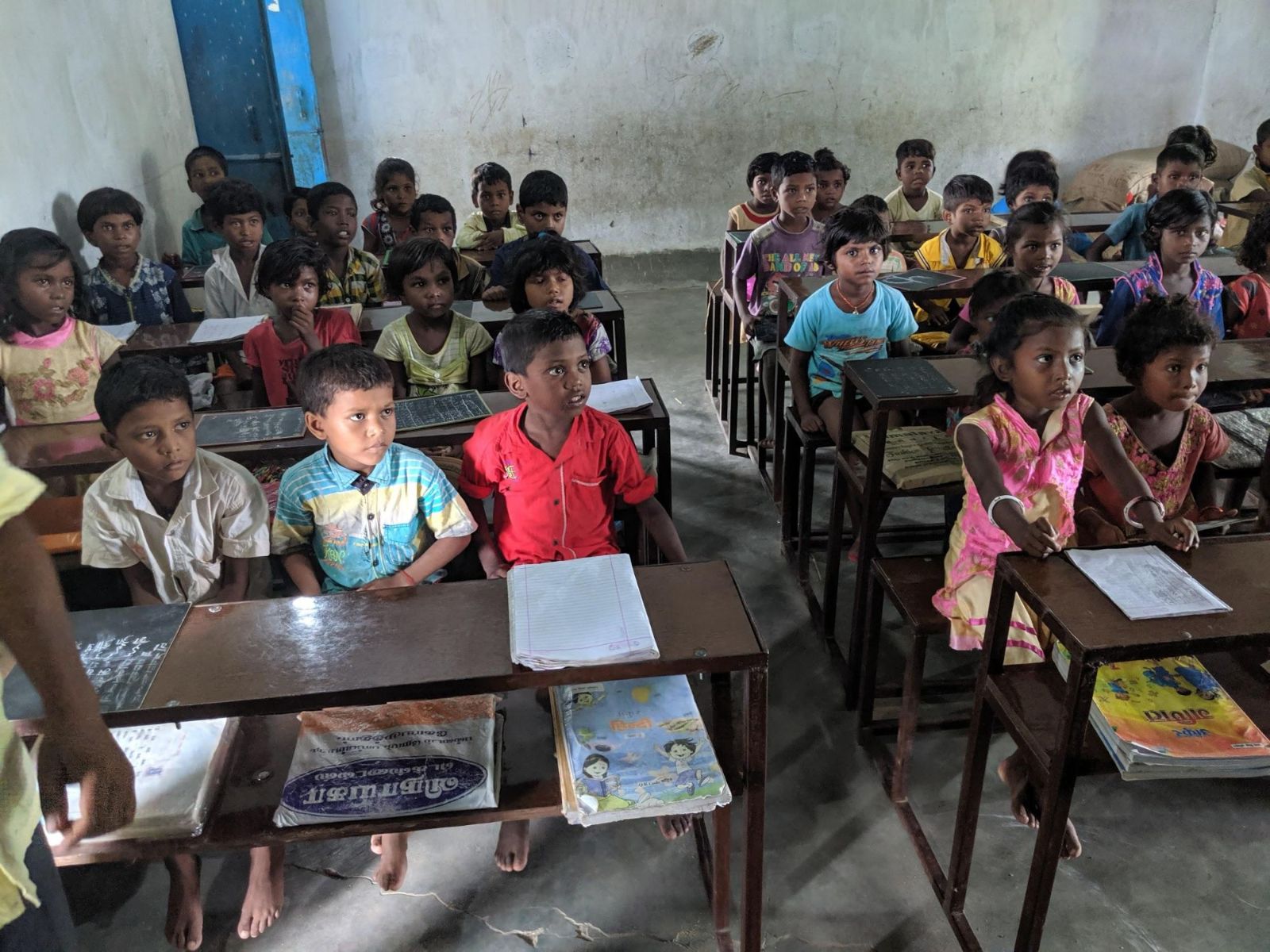 Second, a big majority of students are shoeless. One option 100 School offers is to collect unwanted shoes and redirect them to this school.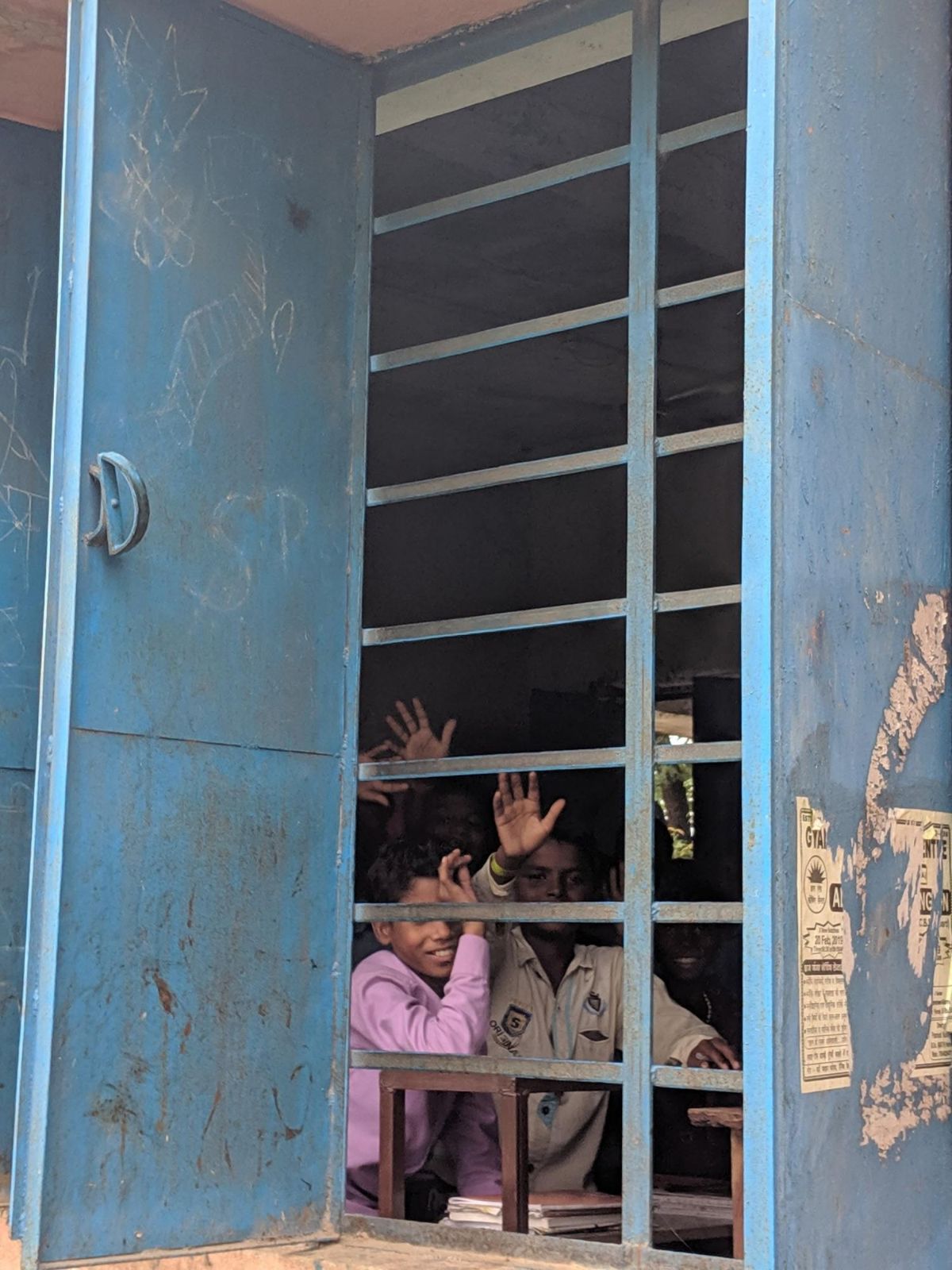 Waving goodbye to us, guess that's more interesting than whatever the teacher is talking.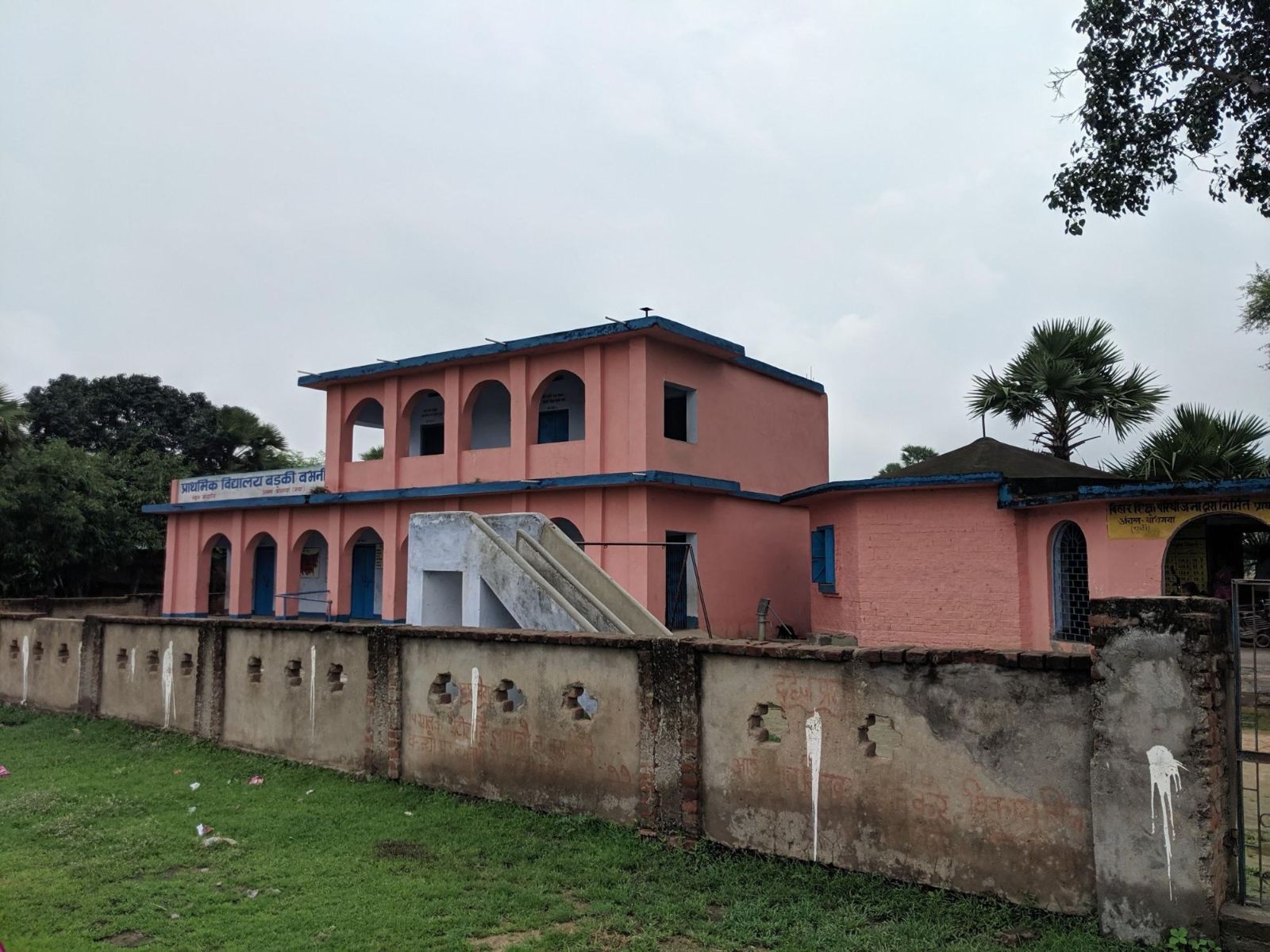 Onto the next school.
It's lunchtime when we got here, so all students went home for lunch and returning later.
This school was one of the first to have received our chair/desk sets about 3 years ago. Here we are checking their quality and durability. Overall a positive outcome.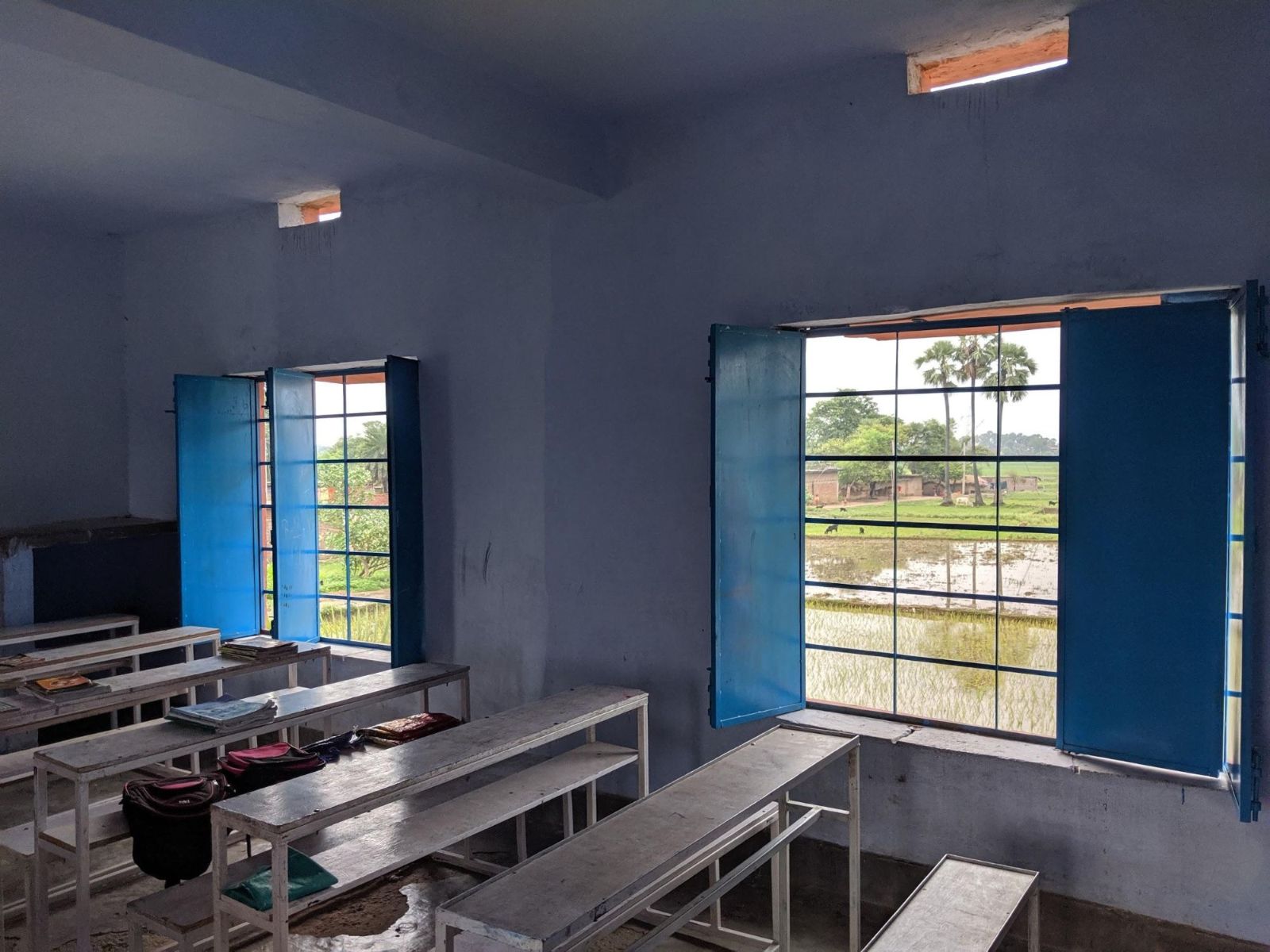 Another classroom with plenty of natural sunlight, and boy look at the views!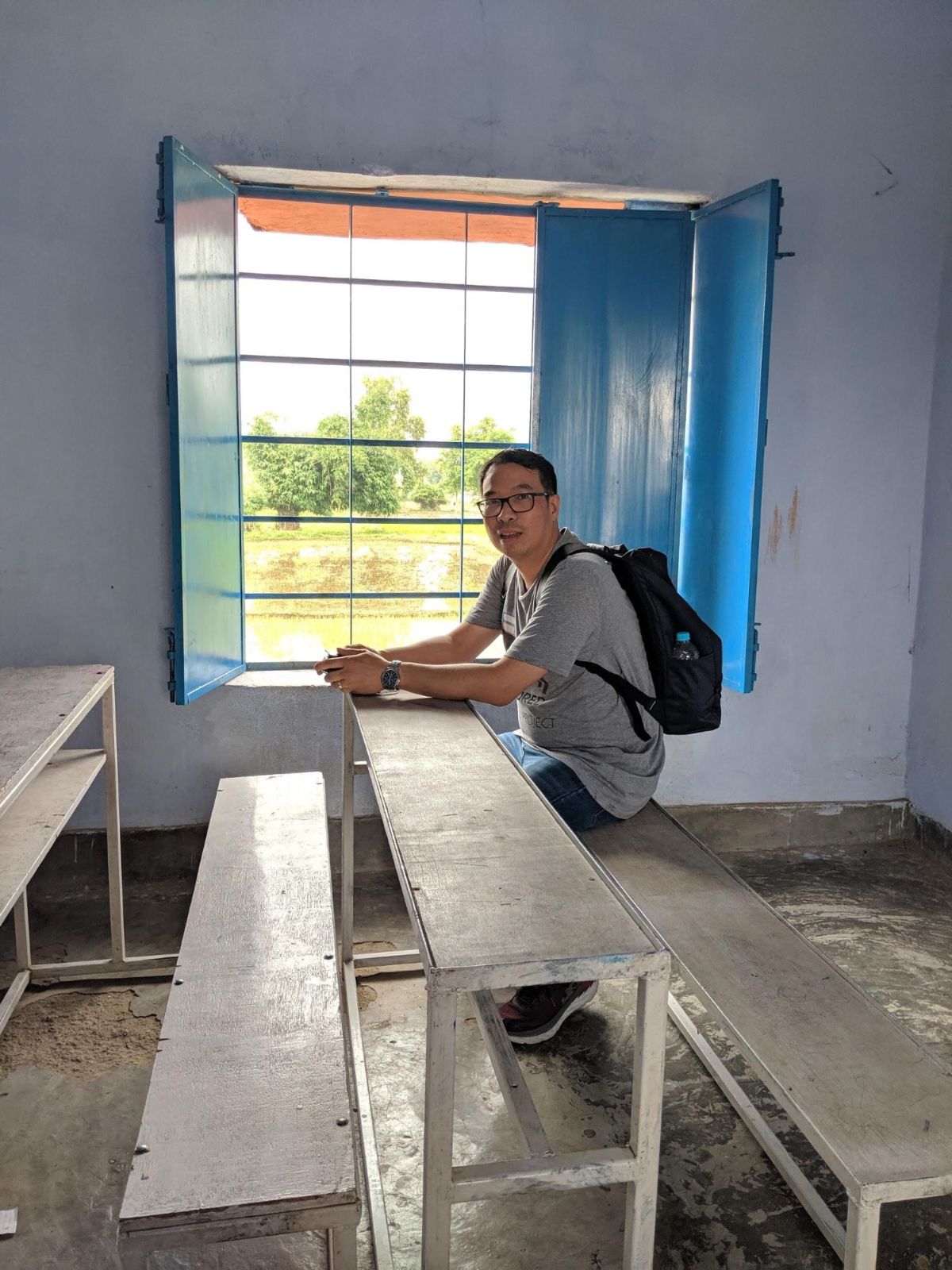 One of Alan's promising ways to check a furniture's strength and quality is to sit on it himself.
Overlooking the plains in deep thought.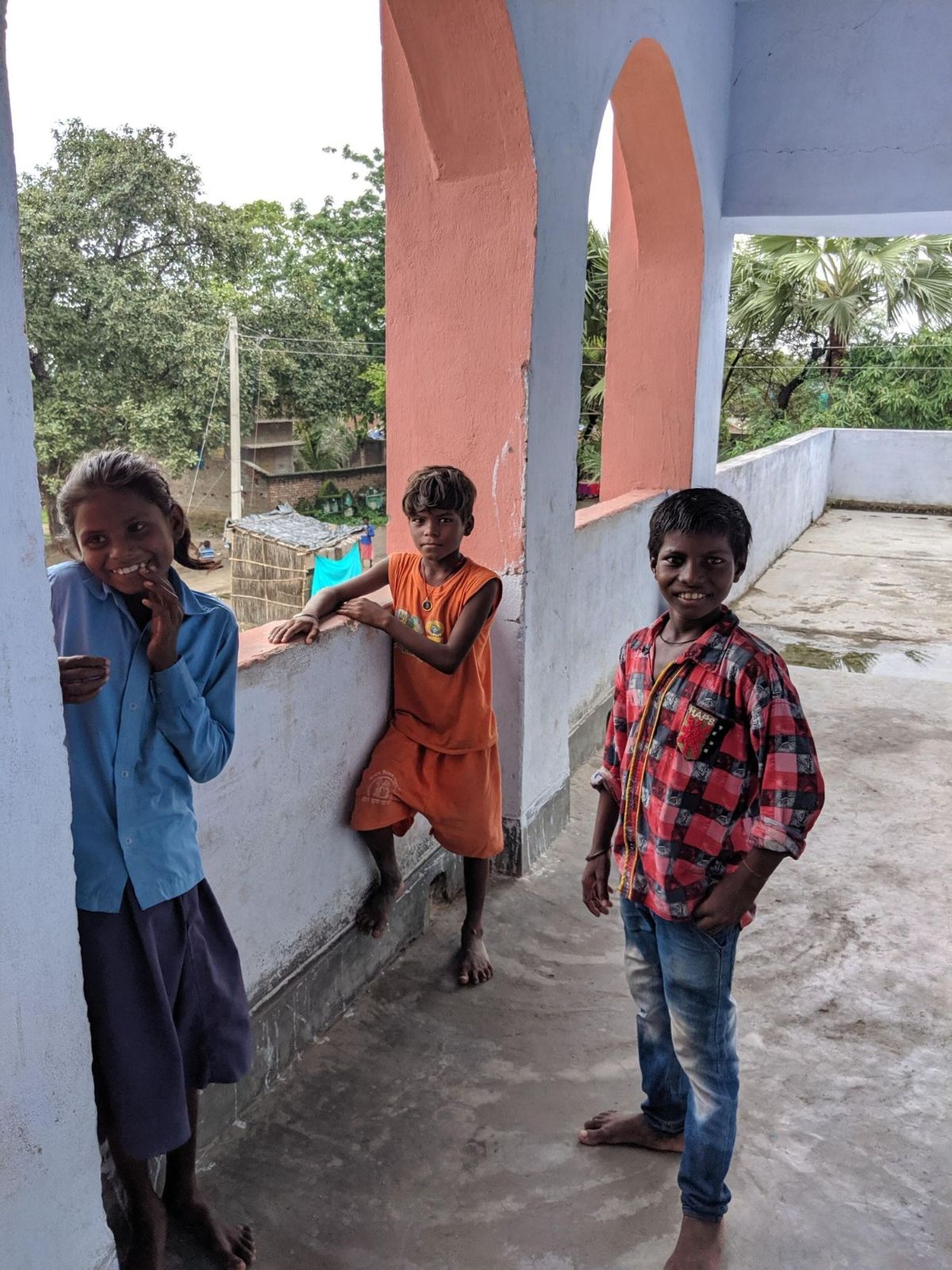 Happy children after having their lunch.
Returning students, jumping on the slide just as we were leaving.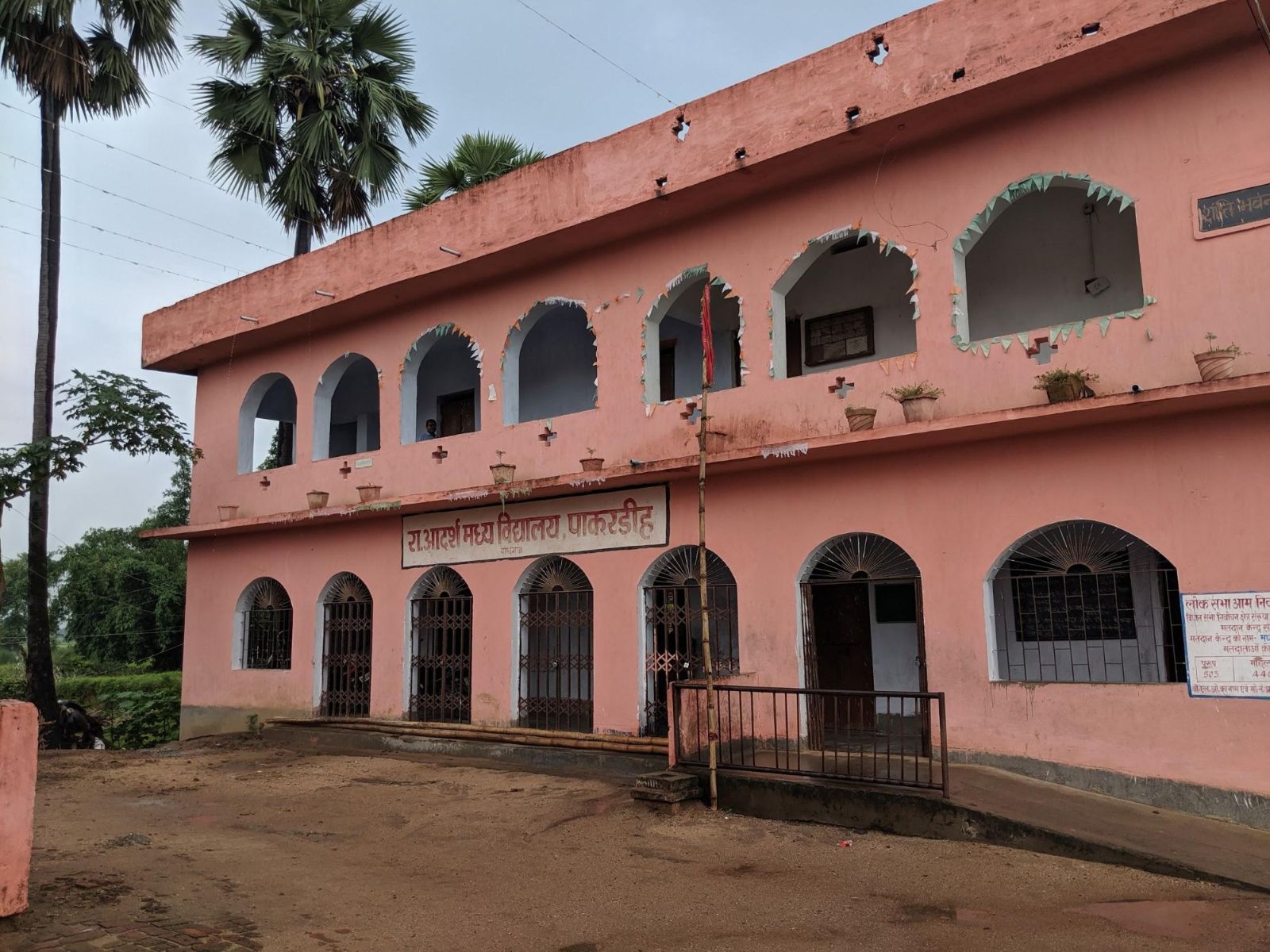 Last school of the day.
All students in uniform, check.
Students have footwear, check.
Classroom is well lit, check.
Fans are working, check.
Our chair/desk set, CROSS.
Turns out these desks were supplied by government. Try to compare this with ours.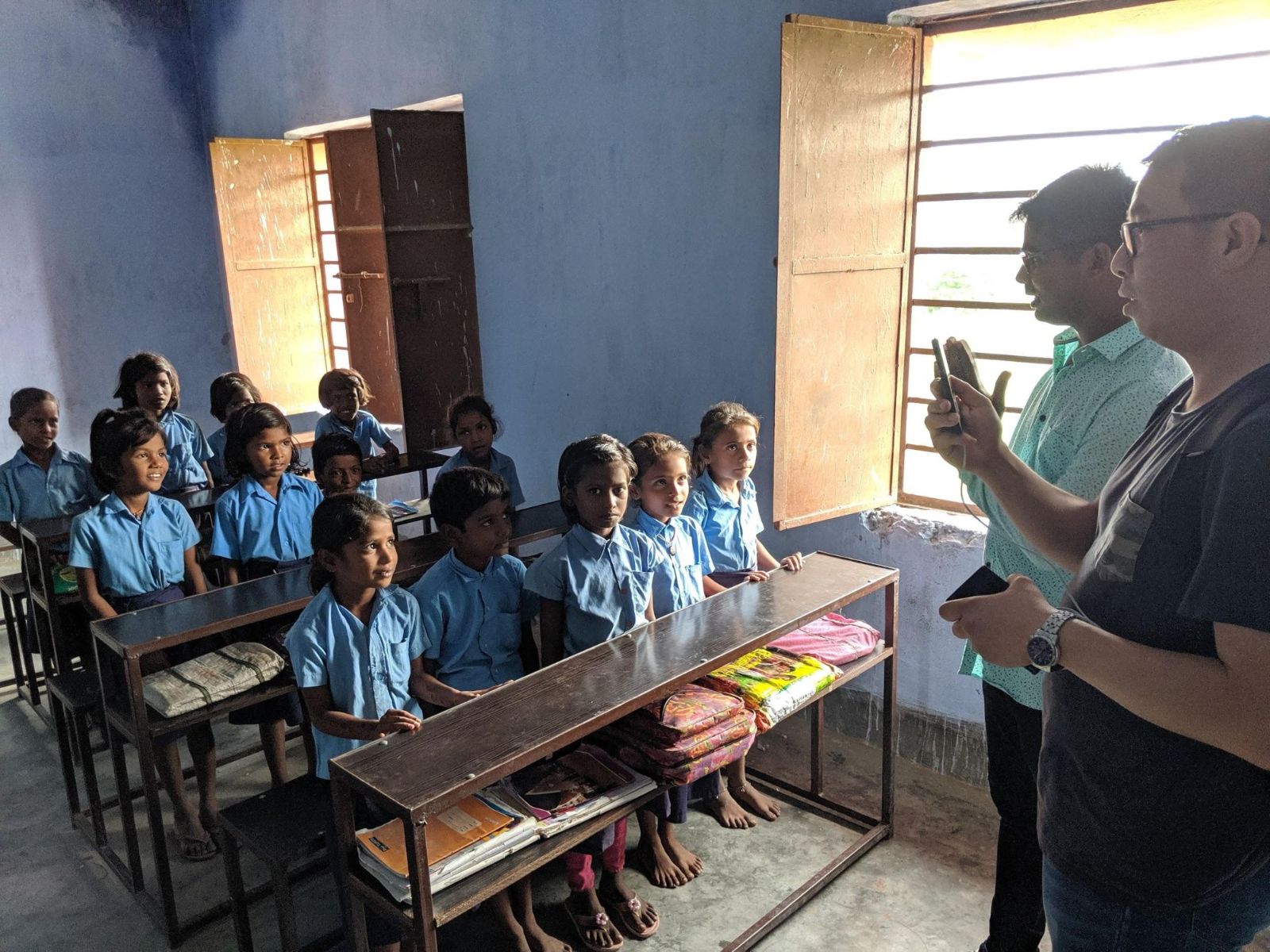 Here's another classroom with our furniture.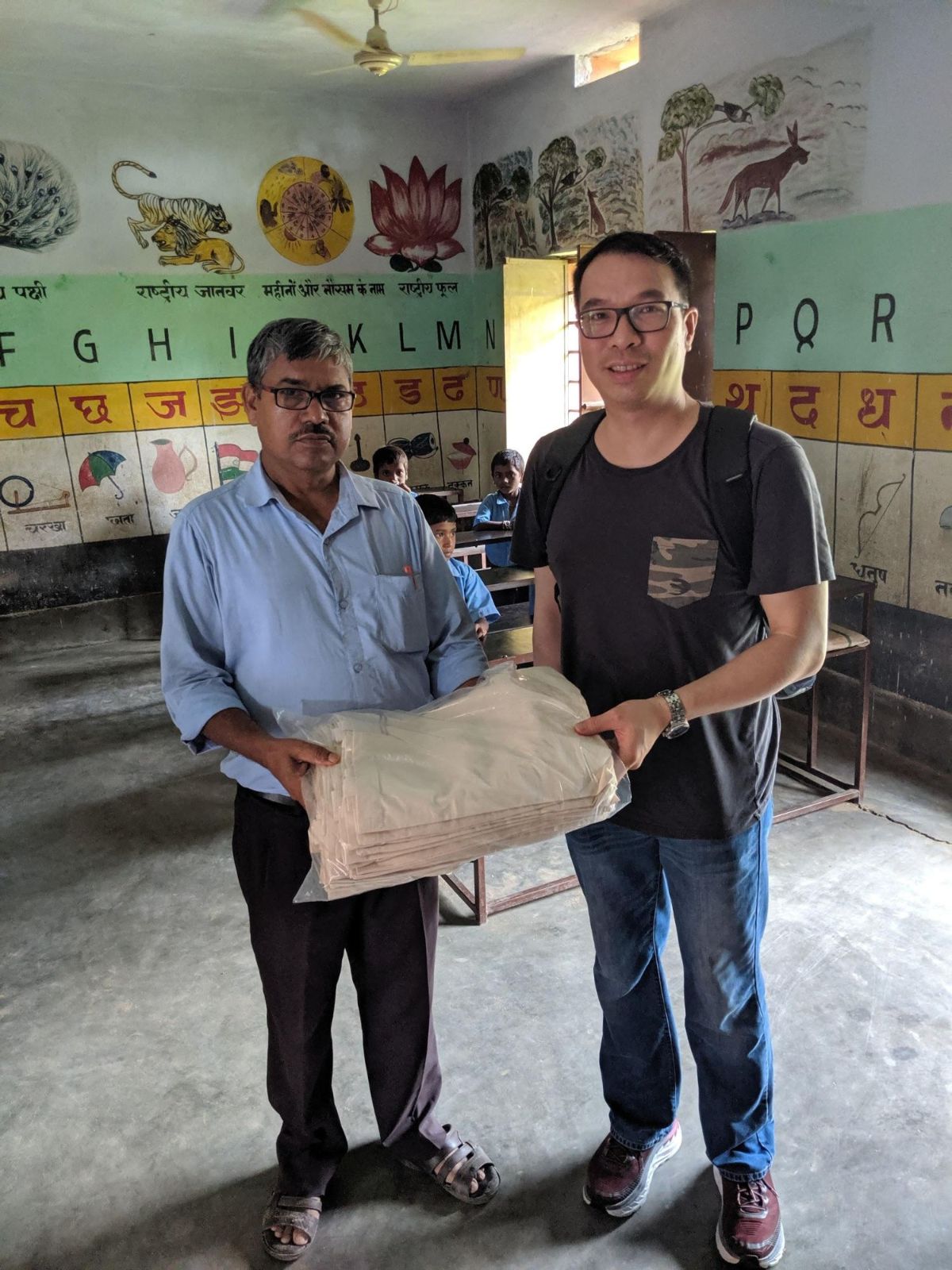 A delighted headmaster receiving 100 School's reusable bags, for good students only.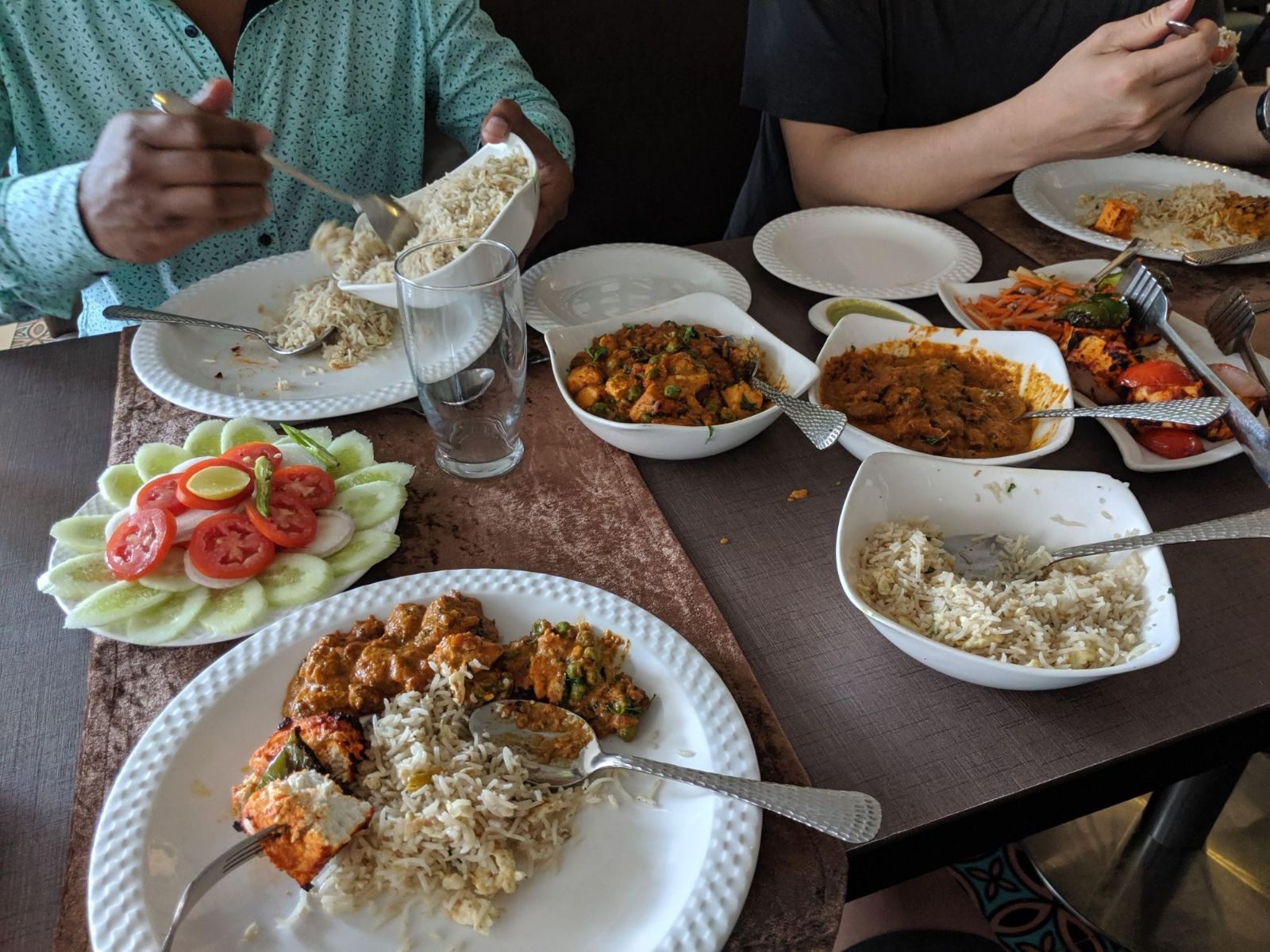 And finally, our lunch time, at 3 pm.
Overall a productive day with a positive outlook of the schools visited so far. We received some really heart-warming testimonials by teachers and headmasters, and were able to see the students' honesty reflected through their cheerful expressions when they greeted us. Not bad for Day 1, we are going to have some rest now, and prepare for a better Day 2.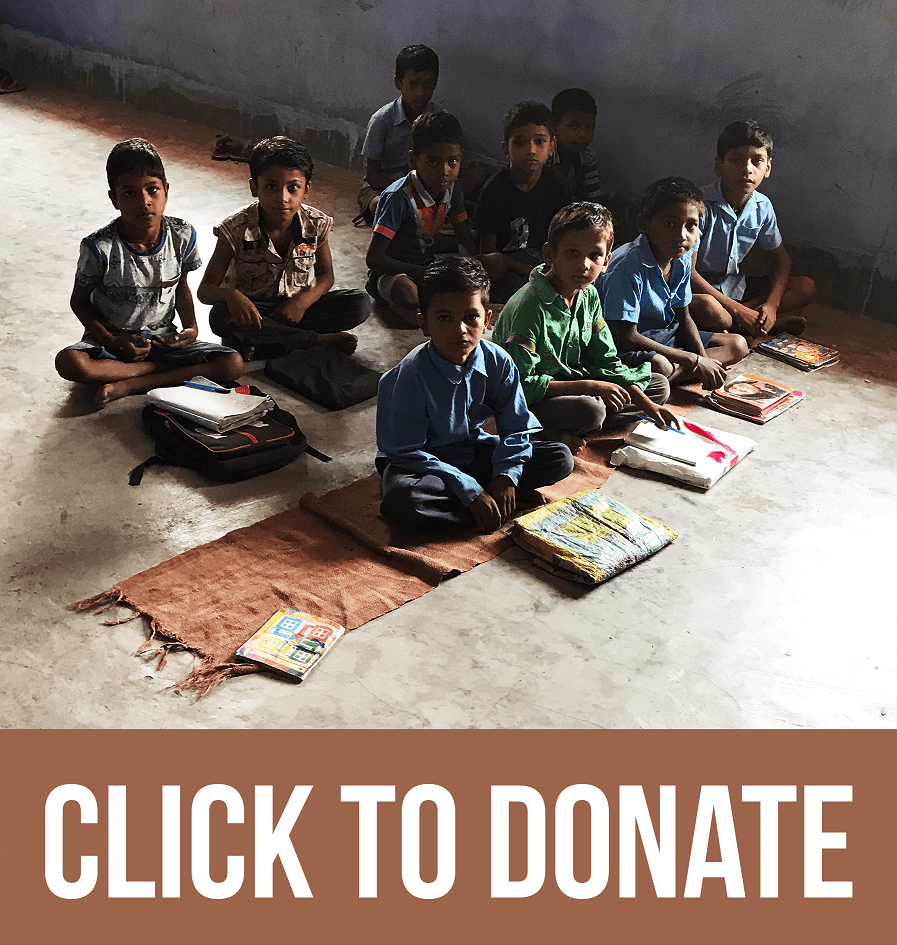 Social Media